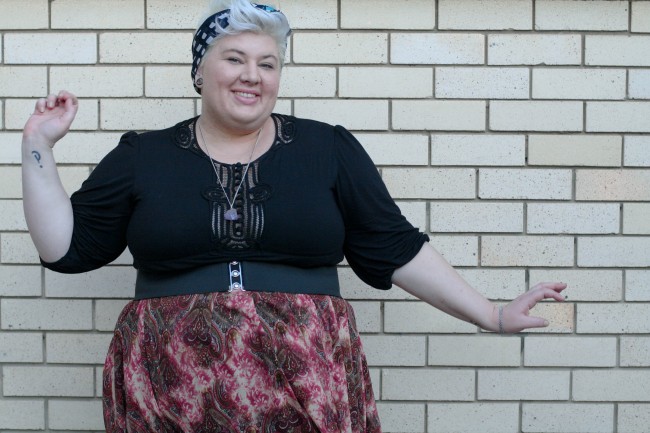 When I was cleaning out my wardrobe for the Megaherzzz clothing swap I came across a dress I haven't worn for ages and decided to wear it today. In times past I've worn the dress with a singlet underneath because it has a lace detail down the centre front, and being blessed with G cups I felt too exposed and never had a low cut bra to fully do the gorgeous detailing justice. Fast forward to this day in history, post cheap-Cacique-bras-on-eBay revelations, I decided to do it. I decided to wear the dress and show more of my cleavage than I've ever previously bestowed on this earth.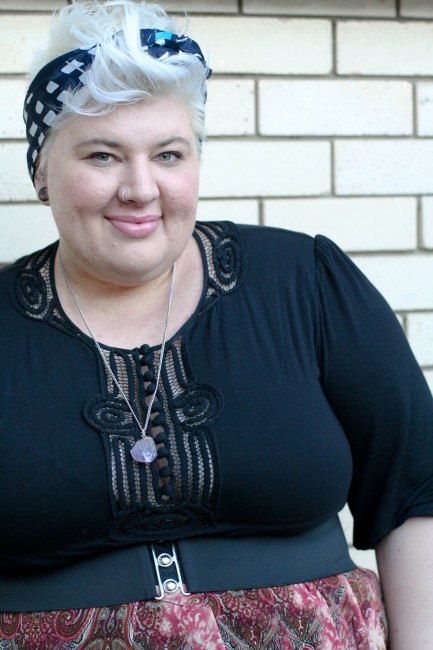 When you think about it you've probably seen smaller chested people wearing low cut shirts without being hyper-sexualised, it just doesn't seem to be a big deal; but when those who own big boobs wear similar style garments there's another set of rules because large boobs are coded as hyper-sexual and slutty. There's a huge pressure to be modest and hide yourself lest others say snide things or worse, invite themselves to comment or even violate your personal safe space. I wanted to challenge my own conditioning today, to wear a dress with beautiful detailing on my body and challenge that notion that only certain types of garments are appropriate for certain types of bodies.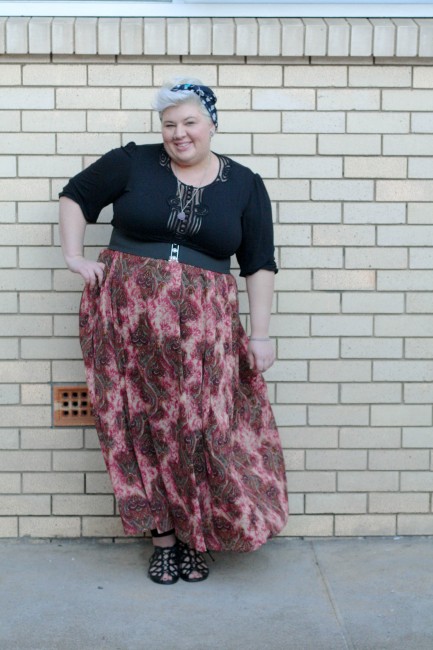 Wearing the dress as a top, because it shrunk in the wash, and pairing it with a maxi skirt worn on my natural waist was another intentional subversion of the Myriad Rules of Fashion. I have a large frontal belly and many people have approached me and asked about my pregnancy. Even when I was smaller than I am now! I started to avoid certain styles of clothing that emphasised my frontal belly, like empire line dresses and high waisted skirts, dressing to "flatter" and "disguise" my body as it actually and naturally is. In the last few years I've been unpicking this conditioning because it does nothing to further my acceptance of my body, instead leading me to believe that there is a certain type of acceptable shape that I must aspire to even if I was not born with that shape.
Pregnant or not, who on earth has the actual right to interrogate me about my body? Or you yours? I ranted a little bit earlier today on my Tumblr about this and how pregnant friends have voiced their discomfort and even feelings of violation about strangers coming up to them and asking them about things they have absolutely zero right not know. More disturbing still, many pregnant people have had strangers touch them without invitation. It's absolutely horrifying for me to think about and I've never been pregnant!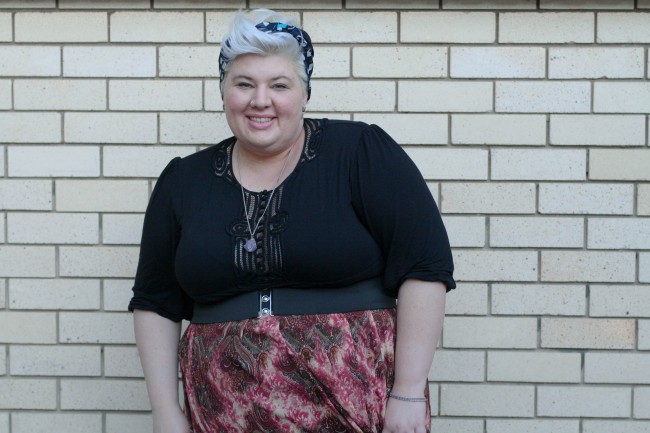 So I wore this outfit to challenge the "Rules" of modesty, figure flattery and how people have the ill conceived notion that they have a right to comment on or touch people's bodies. After writing a short piece for another website about one of my outfits and talking to a researcher at Griffith University about fat activism last night, it's really confirmed for me that my personal style and body is political. I can't escape it. I think about it all the time and it informs how I dress and why I dress. Fashion may be frippery to some, but to marginalised identities it can be incredibly important and empowering.
Dress: Urbane Woman (I think!) from Myer
Skirt: Made by me
Belt: Yours Clothing
Tights: Asos Curve
Shoes: Spendless
Necklace: ebay
Scarf: Clothing swap