I recently got a job in my favourite local fabric store which has driven me into a frenzy of inspiration but, lacking the time, I haven't actually sewn much. This week I'm in enforced isolation due to having radioactive iodine therapy for my Graves disease, and what better time than to indulge in a bit of sewing?
Almost sensing the imminent storm of activity, my Pfaff decided to make a lot of noise so I had to put it in for a service (conveniently, my work can send machines away for service and repairs!) I almost threw a tantrum my niece would be proud of, but my mum stepped in to loan me her machine!
I've certainly been working it hard over the last few days running up muslins for a couple of blouse patterns bought from indie designers. The first two are from SBCC and I'm still working on them, however I can show off the third blouse, the Everyday Elegance Top, from Patterns For Pirates.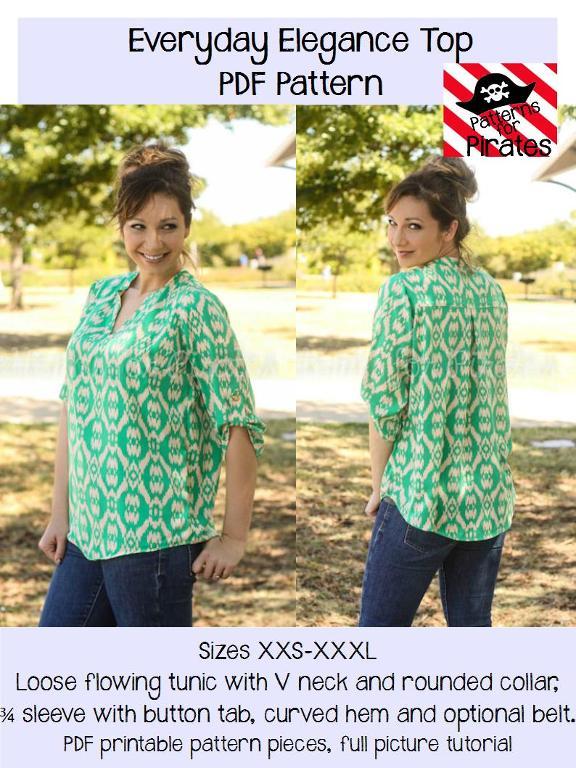 The xxxl size was actually two sizes too small for me, but I bought the pattern anyway and after printing and piecing it together I graded it up two sizes and did a full bust adjustment. The first version of this blouse I made in a vivid pink polyester print I bought years ago. I eked the back piece out of what was left by not cutting on the fold; fortunately the print is the same  left to right and up and down!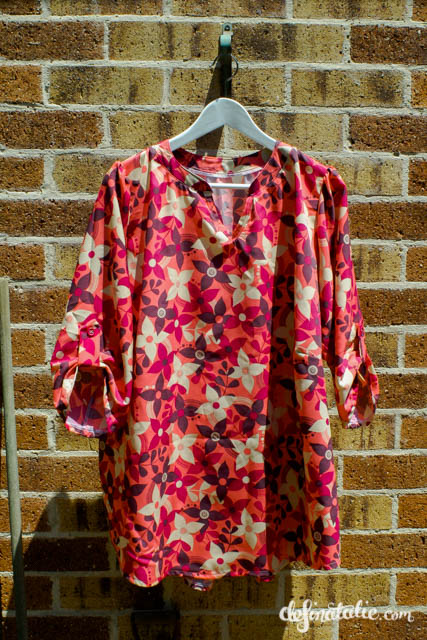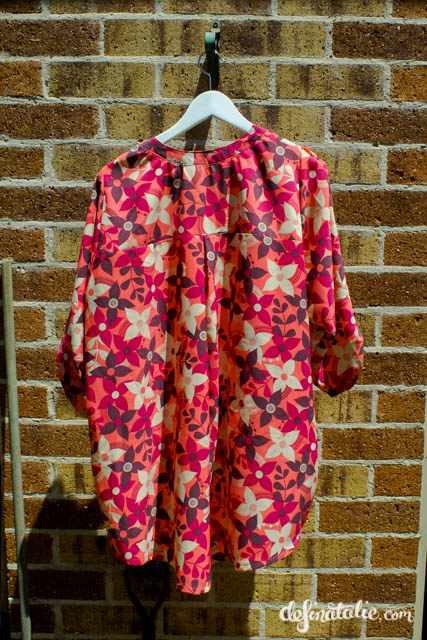 I noted immediately upon putting it on that polyester is slightly gross to wear in Brisbane's humidity. So this top will be worn in winter – the two week period we get here in this town to wear our long sleeves! The elbow room was also a bit mean considering the button tab restricts some movement so I added a little width to my pattern for the next version. I also planned to construct the collar and v neck a little differently to hide the messy bit of overlocking that pokes out when the collar is attached over the v neck binding.  Speaking of.. my v neck binding is terrible.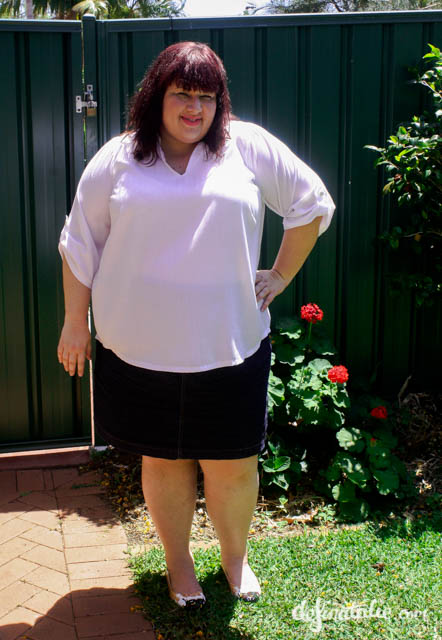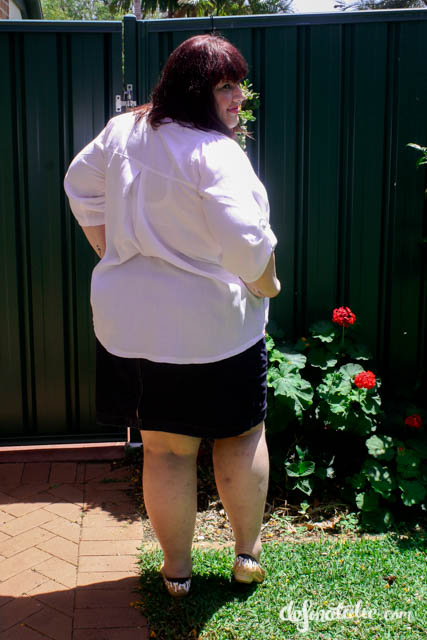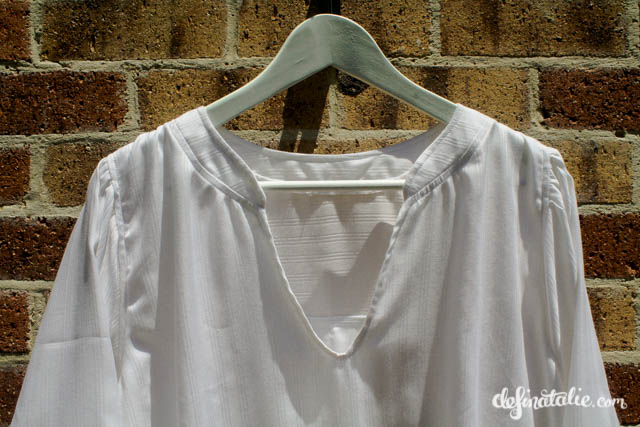 For this version of the pattern I used a cotton shirting with a self stripe from the fabric stash my late grandmother gave me. She probably bought it intending to make a shirt for my grandfather! I top-stitched every seam because it just felt like I should. The cotton is beautiful to wear, and I will be test driving it at work on Saturday. There's no air conditioning in the shop and if the current weather keeps up we'll have a fair challenge for this here blouse.
I completely stuffed up the collar construction by sewing in the interfacing in the wrong order, and I only realised after I'd clipped the seam allowance. Halfway through unpicking it I realised it'd be easier to just cut a new collar. When I got to the sleeves I realised I'd cut two right sleeves due to laying out the pieces to avoid a flaw in the fabric. The self stripe looks different either side and I wanted to make sure the whole garment was made with the same stripe so I went back and cut a new left sleeve because growing an extra right arm is slightly beyond my capabilities…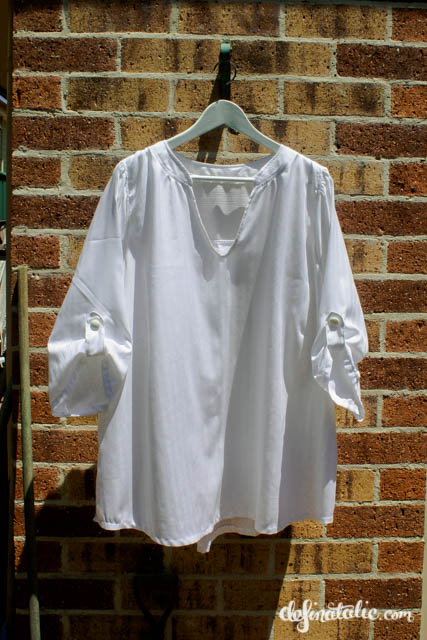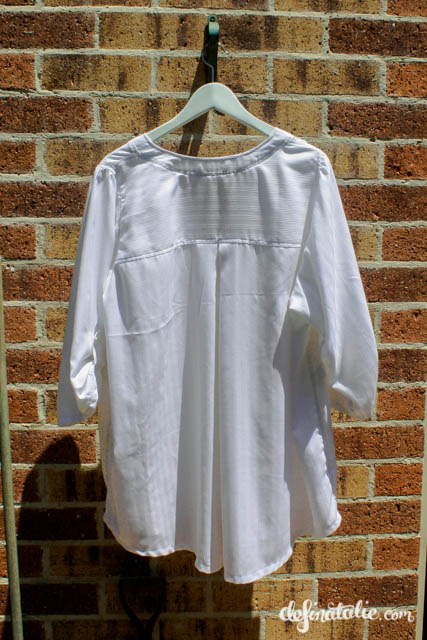 Despite my slightly wonky collar and annoyingly wrinkled hem I'm proud of this shirt! I haven't made one in a very long time, and I wanted to make sure I finished it nicely enough to wear to work. Even though it has some flaws, it's nice to be able to wear things I've made at my job in a fabric store!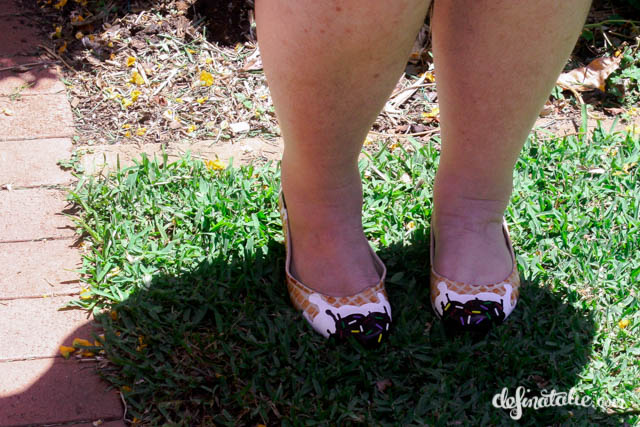 OH! I wanted to show off my nearly finished self made ice cream shoes! I just have to varnish them to protect the acrylic paint. I bought a pair of cheap wide fitting flats from Yours Clothing that were a patent cream vinyl; after spraying with adhesive I just painted straight on to them and chucked some bugle beads on the toes for sprinkles! I have no idea if they'll hold up to even casual wearing but they're cute as heck.
Patterns for Pirates "Everyday Elegance Top" – in a nutshell.
Changes made to pattern:
Graded up two sizes.
Full bust adjustment.
Deepened v neck.
Added width to sleeve at elbow length.
Dropped armscye front and back, didn't alter sleeve as it has gathers.
Turned and top-stitched v neck binding after collar was attached.
Cons
Sizing doesn't go up high enough.
The collar is a bit fiddly.
Instructions could be clearer.
Pros
Nice casual shirt that transforms based on fabric choice.
Will be making it again.