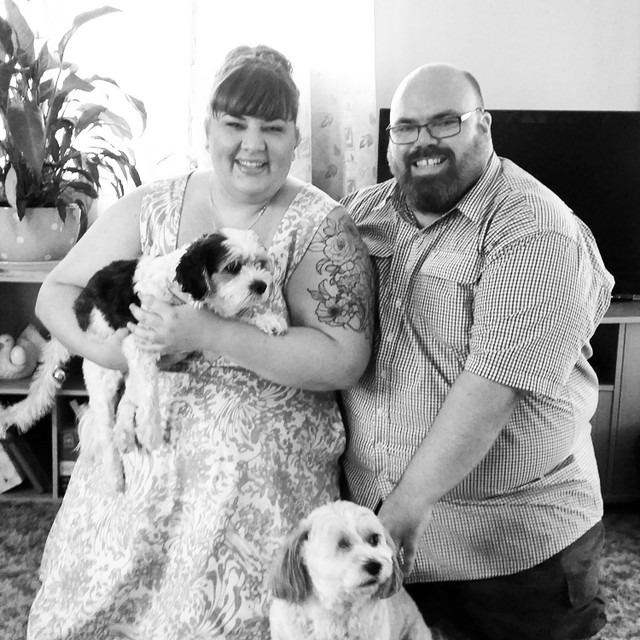 It's taken me a long time to get photos of this dress! I sewed it up just in time to wear it on my birthday on the 20th of December and then I wore it again on Christmas Day. I'm sure I've worn it to other places as well, I've just been working and coping with a back injury and hypothyroidism for the last couple of months so all non-essential primping and posing had been shelved.
Last year I had radioactive iodine therapy for Graves disease and my thyroid levels have gone down as planned but I wasn't prepared to feel so terrible. It's been shocking, I can't lie. Coupled with my back, I've been living in Struggle Town but thankfully I have Nick and a couple of adorable dogs to keep me going.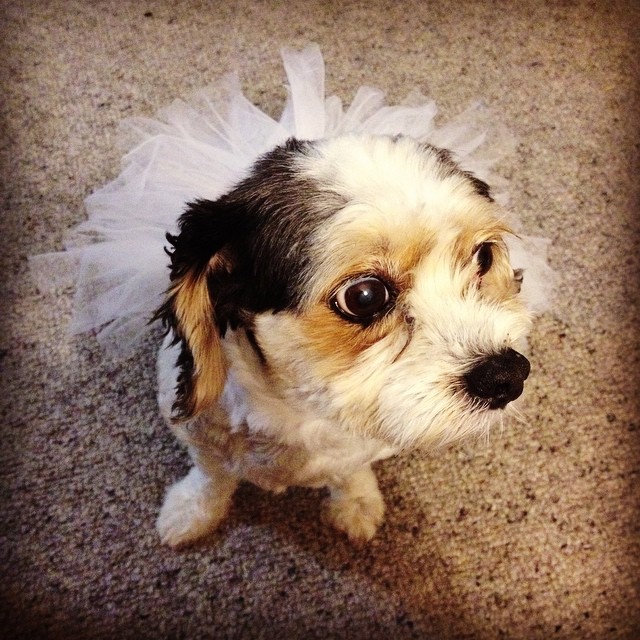 Yes, our dog population has doubled! We adopted an elderly dog called Jess from a lady who moved into a care home that didn't allow dogs. We don't really know how old she is but her previous owner estimated she was around 13 years old. Jess doesn't know how to play which disappoints Miffy a little bit but she has been settling in bit by bit, and her favourite things are dinner time and sleeping under the kitchen table.
So, on to the business end of this post! I had been waiting for  Tenterhook Patterns to bring out the Jacaranda dress for ages, watching Amanda's instagram and quietly pining away!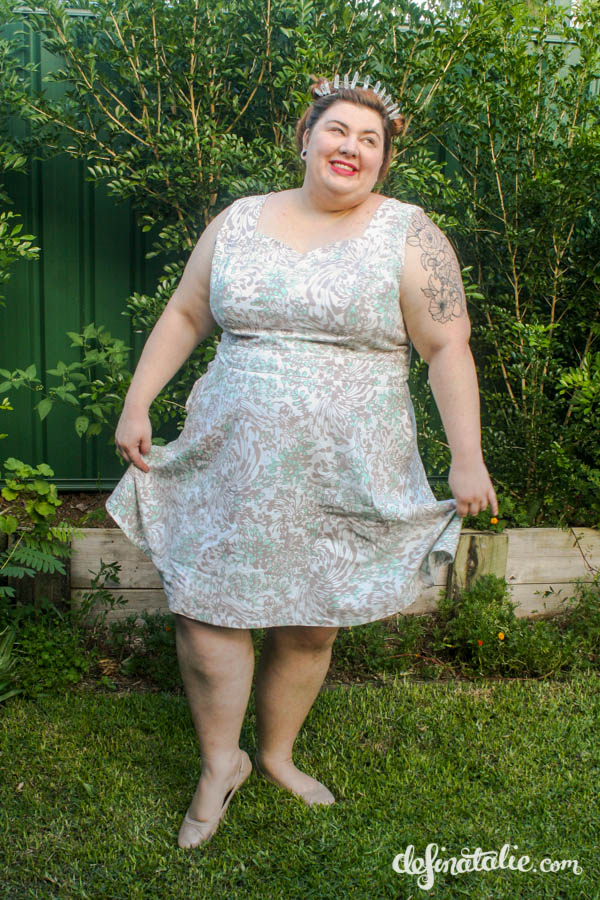 I made up size G and had to add a little width at the waist, as well as make my half circle skirt a little less… half circular due to the narrow width of the nice linen print I've had in my stash for about 8 years.
I lined it with some cotton voile because poly linings have zero business being in my life right now considering we've had one of the hottest summers ever in south-east Queensland. As much as I love how cool the linen and cotton combination is, ironing this dress is a beast. I thought I'd pressed it well before taking these photos but you can't ignore those wrinkles up there.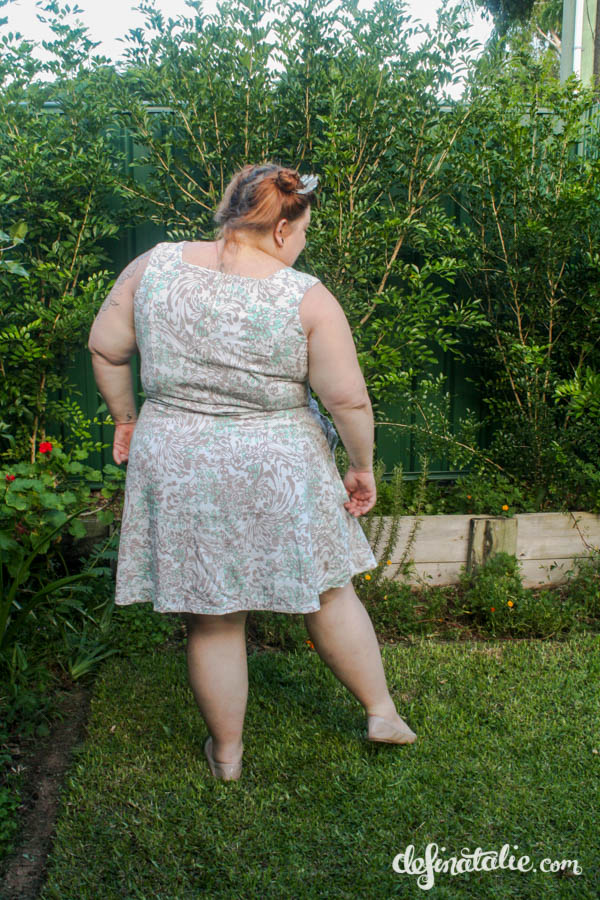 Next time I make this I'm adding more width across the back and taking a wedge out of the neckline to narrow it down. I'm also going to try the pencil skirt variation, split it into panels and try to Frankenstein some sleeves. I have an idea to combine an amazing digital glitchy print double knit a lovely reader sent me with black scuba.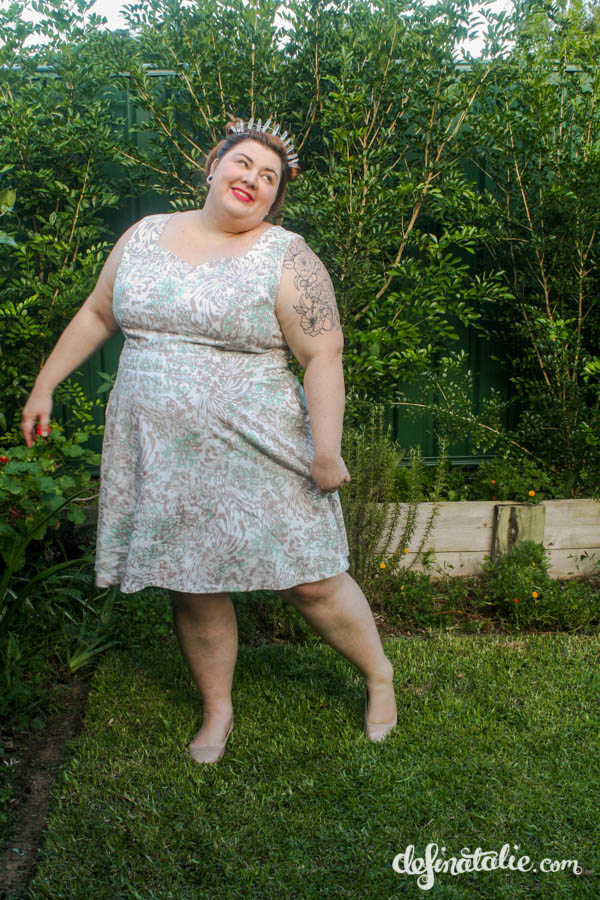 I've made a separates variation on this pattern that I'll post tomorrow, and I've used the skirt pattern to make a 6 gore skirt. In the Jacaranda comfort meets whimsy at a perfect apex and I don't hesitate to recommend this dress. I feel fabulous in it. Also it has pockets.
Tenterhook Patterns "Jacaranda dress" –  in a nutshell.
Changes made to pattern
Added width to waist.
Tapered half circle skirt from waist to hem to fit fabric width.
Pros:
Plus size.
Based on a D cup.
Two skirt options.
Cons:
I wish it had a sleeve variation.
---

If you like my tiara you can get one like it on Fancy Lady Industries!