A while ago some friends sent me this adorable flamingo fabric and I held onto it for so long because I didn't want to use it on a wadder (i.e. something so crap I'd wad up and throw in the bin for non-sewist readers!) Since I've been making a bunch of half circle skirts I felt very strongly that this fabric was destined to become a cute little skirt but was always bummed out by the narrow width.
When you're a fat sewer you tend to pass over the 115cm wide bolts of fabric in favour of the 150cm statuesque beauties because, well, ya need more damn width. In this case I would have completely ignored an amazing flamingo print because of my "narrow width blindness", so I'm really really grateful Caroline and Molly picked it out for me and sent it to me from Arizona! It just meant I had to solve a few problems.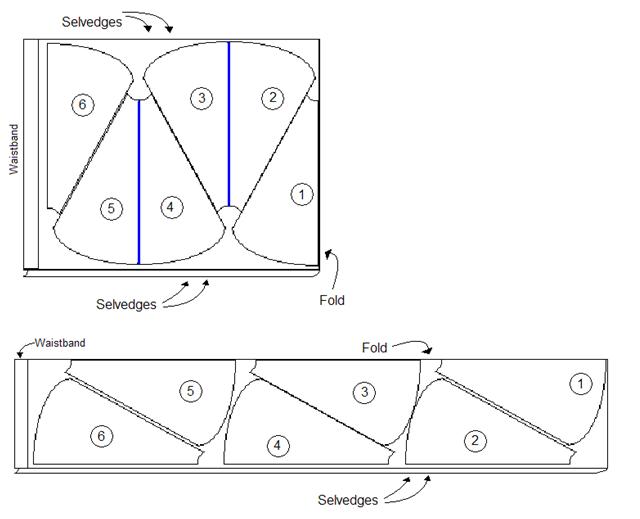 I decided to split the skirt into 6 gores, and if I was using a solid colour or even a multi directional print I'd be fine to lay each gore out as shown in the above layout diagram and have leftover fabric for a waistband. My print only went one way. So I just managed to eke out the pieces but didn't have enough for a waistband. NEVER FEAR! I asked social media to advise me. We went with cubes.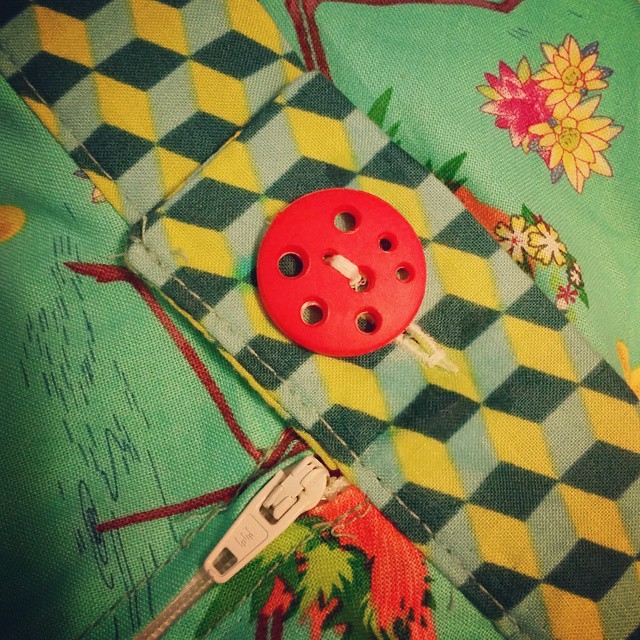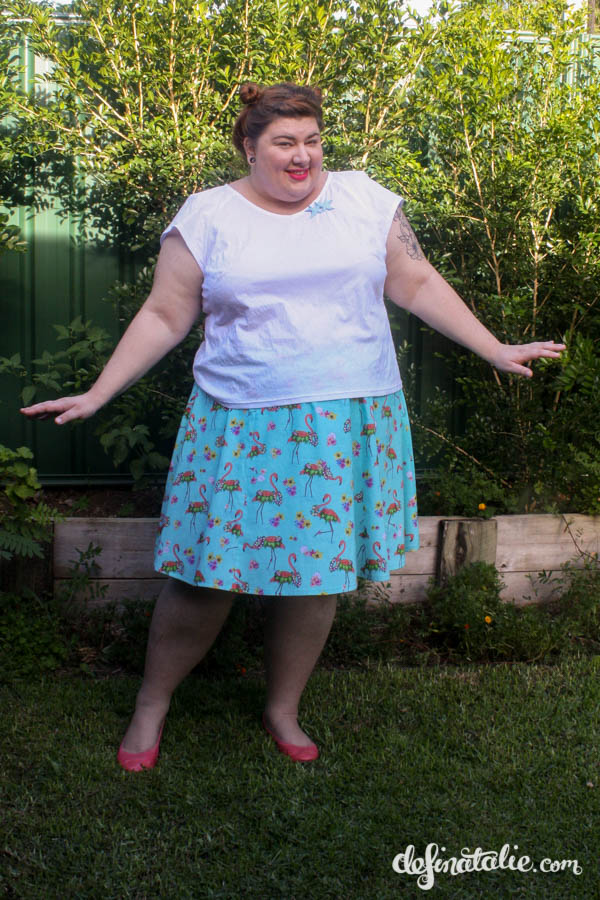 It turned out pretty well! A good approximation of a skirt, if I say so myself. I wore it on the weekend with a black broderie anglaise top made with the same SBCC pattern used for this white blouse, but I tucked it in so you could see the waistband. Half of a very breezy Coolangatta saw my whole arse about three times. You're welcome, Coolie.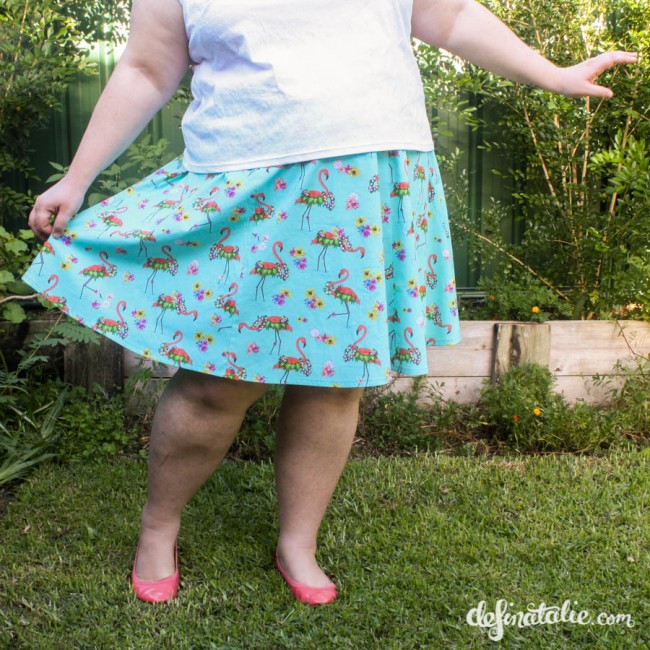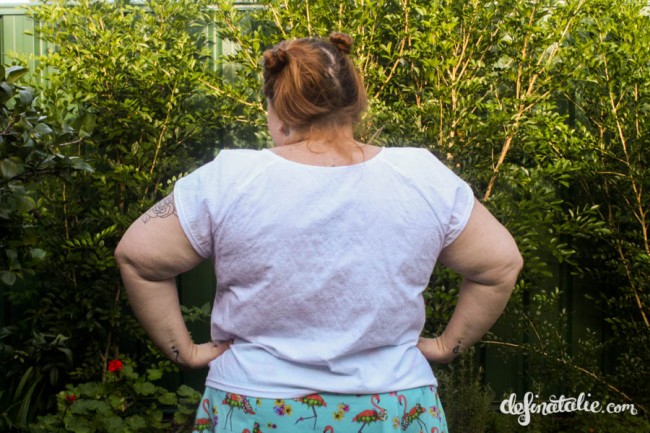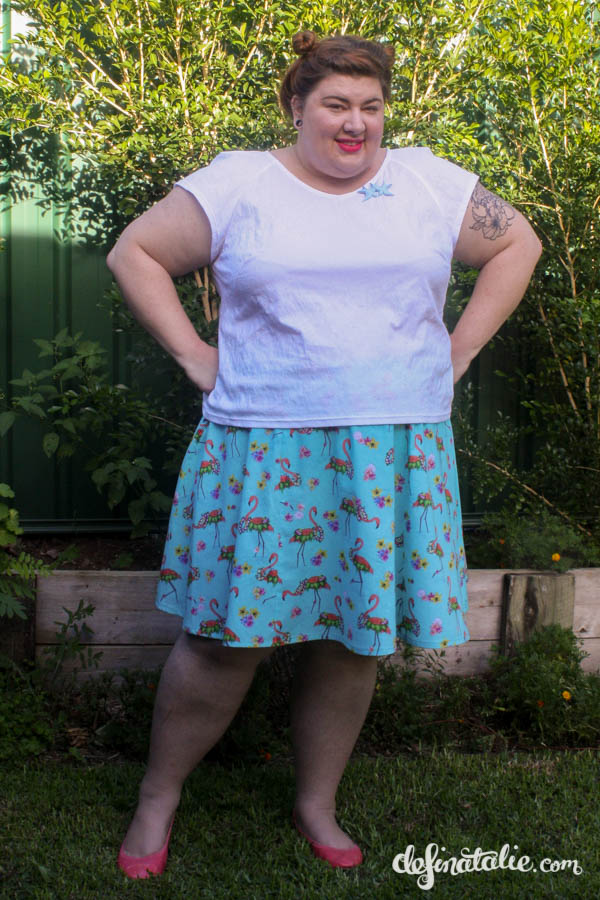 The white SBCC Mimosa is actually my fourth. I'm loving this blouse for summer, but surprisingly I haven't actually blogged about it despite it being my work staple. I have made this top in a white and black broderie as well as the same coral eyelet used in yesterday's crop top.
This fabric from my work is a woven cotton elastane with a raised squiggly texture. It's VERY stretchy and the weird thing about it is that the stretch direction is lengthways instead of widthways, from selvage to selvage. I snapped up the very last of the bolt, or what I like to call "adopting" the end of the fabric. I have to be very careful, working at a fabric store, because I could very easily "adopt" a lot of fabric!