Menswear is a dearth wasteland of boring nothingness but when you're a plus size guy going clothes shopping… it's more like a hellscape of polyester tropical prints, jorts, and too-short shirts. My poor large husband, sweet precious Nick, has been so traumatised by shopping for clothes over the years that he fears he'll never be fancy. You might say, "but Natalie, you can sew!" Yep, I can… but where are the sewing patterns for larger plus size men? I will tell you my friend, they don't exist outside of a crew neck t-shirt! In fact, I'm clinging to a heavily altered discontinued Simplicity pattern for his button up shirts so it's no great surprise to me that I couldn't find a polo shirt that went up to his size.
When we discovered that Bad Rhino, his now former polo shirt source, had discontinued the extra tall range of polos – we panicked. Nick prefers the extra length because, for whatever confounding reason, manufacturers grade up for width but not for the belly that drops down over the belt. He's always tugging at his shirt and feeling uncomfortable. A few weeks ago I had a teary rant on facebook about being unable to find him polo shirts, in ready to wear or sewing patterns, and came down to the uncomfortable realisation that I'd have to sacrifice one of his well-fitting polos for the cause.
I carefully cut along the seams and took a pattern but was slightly worried when it came to the collar and placket. His ready to wear polos all have a rib collar but finding a pre-cut rib collar in the appropriate width was going to be nigh on impossible and I didn't feel like cutting actual rib and ending up with a daggy result. What I did was cut two of my fashion fabric and interfaced the top piece, just like I do with his button up shirts. For the placket I followed this fantastic step by step polo shirt construction video. My first placket was a bit iffy but of course, practice makes… a very loose interpretation of perfect.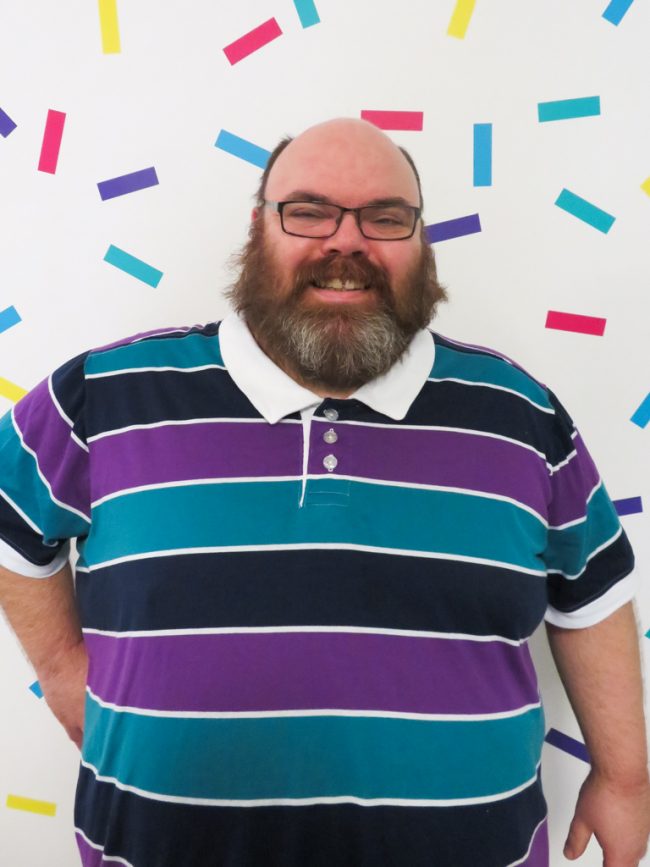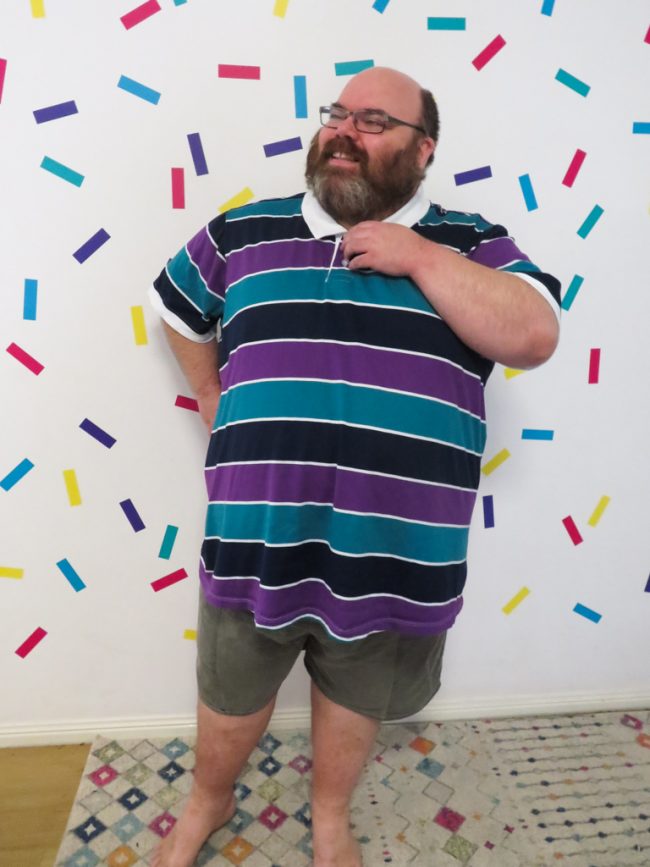 I decided to jump on in to the polo shirt project with this lovely rugby stripe knit from The Remnant Warehouse. The white collar and cuffs are a pique knit also from TRW. See how the placket isn't quite… right? The white totally highlights the flaws but of course, I'm being picky! The curved front hem gives more belly coverage but is plainly evident when a striped fabric is used. We are just not going to discuss it though, are we? Nor will we talk about the mismatched stripe at the sleeve!
Speaking of sleeves, the sleeve cap had a mystifying amount of ease in it despite my faithful replication of the original polo. I tried to reduce that ease but it was challenging because I wanted to retain the width of the sleeve but not the height. By the last shirt I managed to get the ease down to a few centimetres but people need to know just how flat the sleeve head can be in larger plus size garments. If you're expecting one of those lovely arched pattern pieces you need to adjust your expectations for larger plus sizes.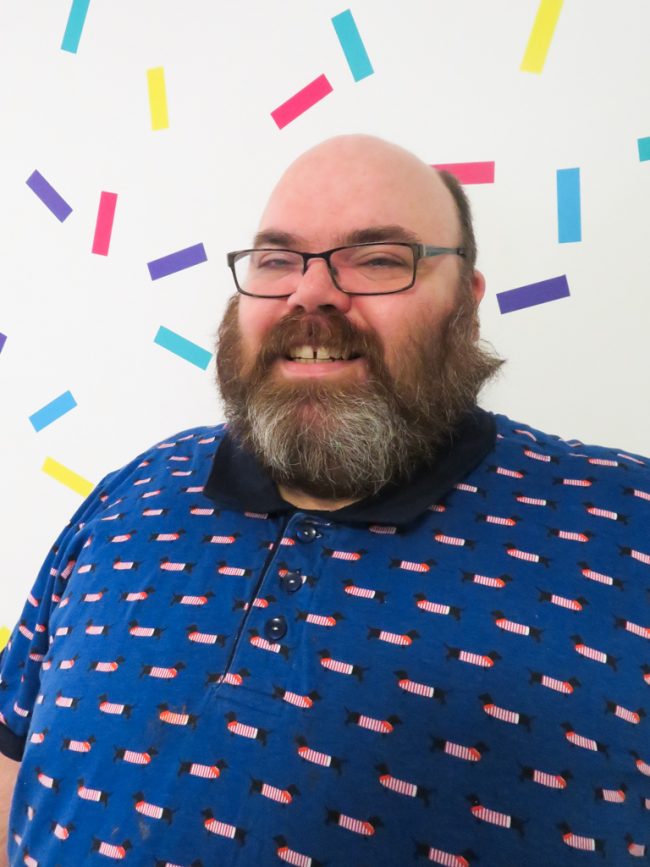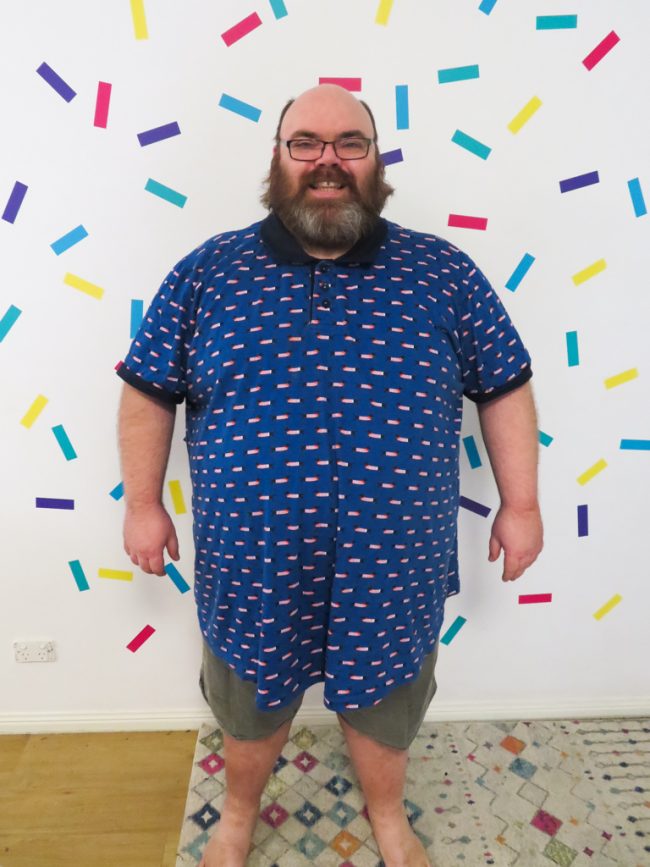 The second shirt was undertaken with a wealth of knowledge gathered up from my first attempt. I moved the placket slice over a wee bit to account for the turning of the fabric and thusly it is more centred. Horay! This dachshund print is totally adorable but it's a cotton jersey from Spotlight and the quality isn't my favourite. Such a shame. This polo is Nick's new "lucky shirt" because he successfully interviewed for a new job in it! (Yay for tech start ups that embrace quirky casual!)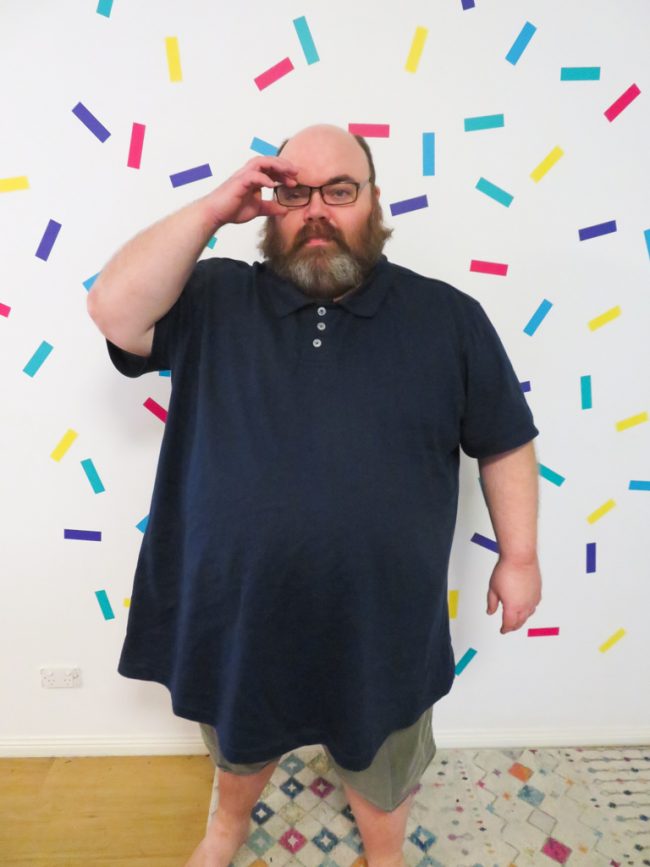 The final shirt (for now!) is made from this absolutely brilliant navy pique from TRW, and I went for all navy on the cuffs and collars too. It's boring but it's my favourite. By this stage I'd almost nailed the placket and flattened the sleeve cap. I did make one boo boo – I sewed the underneath collar piece on so that the wrong side faced outwards; but no one will ever know because Nick never pops his collar.
I have two more lengths of fabric for another couple of shirts, this time in sky blue and kelly green. I plan on swapping the cuffs and collars on these for some contrasting fun. Then I've got a bunch of remnants so I might do some colour blocking. Nick's pretty easy going and all he really ever wants is to feel comfortable and casual.
My dream is for size inclusive pattern companies to start bringing out some patterns for larger plus size menswear. The sewing pattern game is chock full of womenswear, but even when it comes to straight-sized menswear there's a real lack of imagination. If I knew how to properly draft and grade (instead of my hodge podge attempts over the years) I would do it myself!