In the past few weeks my state has flooded in several cities and towns, including my hometown Brisbane. Nick and I are safe (thanks for all the lovely messages!) and our home is untouched by the flood waters. We live in a flood prone suburb however our unit complex is on one of the highest parts, and we didn't even suffer any powercuts. We were very fortunate.


This park is on the road just behind the hill where our unit is. In the background you can see trees and they usually shield the little trickle of water called Norman Creek. It's quite an impressive trickle at the moment! This flooding covers this particular road in two places and extends through low lying areas around here, cutting off homes and businesses as well as electricity thanks to intentional power cuts for safety's sake. I just can't even imagine how awful it would be to have had my home flooded. As I watch the news I see people trudging through thick brown mud and wiping it off the treasured belongings they've managed to salvage. Yeah, belongings aren't everything but they sure can mean a lot if they're attached to your family and loved ones.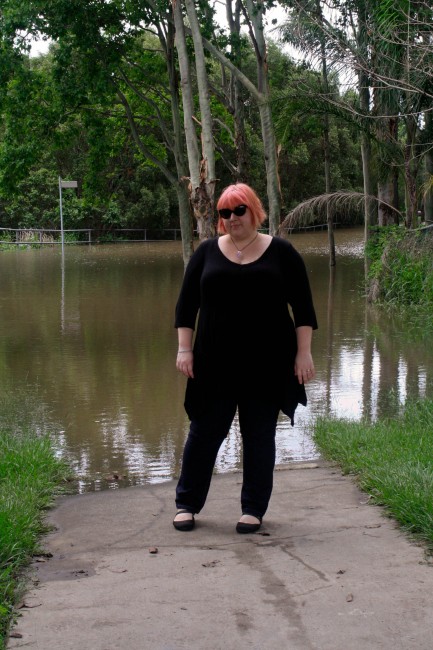 Behind me is the street our big post office is on, I guess our mail service might be a little bit interrupted!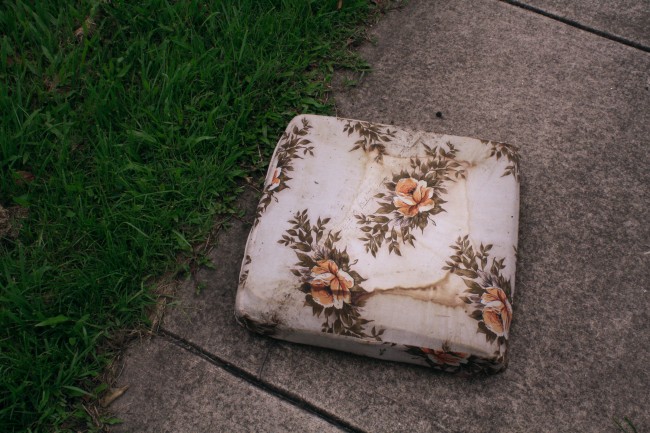 In some suburbs people's belongings are strewn very far away from home but in my suburb this was the only debris we came across.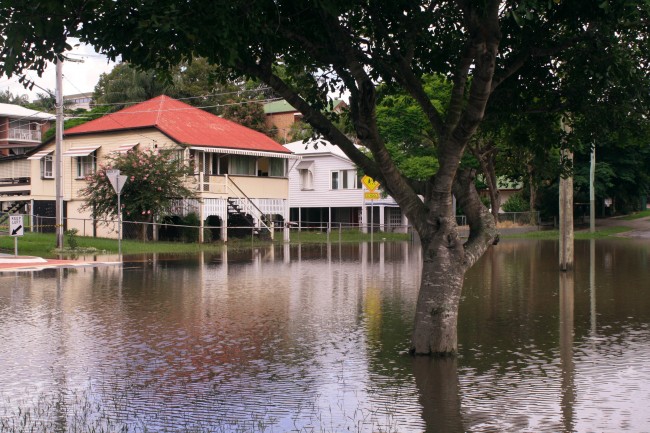 A few people now have water front properties… without the benefits.
In Queensland many farms, businesses and homes have been inundated with water, and to date 16 people have died while around 50 people are still missing. Queensland grows a lot of produce so even those who aren't directly affected may still be affected with fresh food being in limited supply. Brisbane's City Cats will likely not be back in the Brisbane River for months because the flood waters swept away most of the pontoons; and the Riverwalk was absolutely destroyed but tugboats guided rogue sections of it to prevent it from wreaking havoc along the river and the bridges that reach over it. Let's hear it for tugboat captains!
We have been feeling so fortunate that we haven't been flooded and we're very enthusiastic about helping out, with so many parts of our city inundated, swept away and ruined. If you've been following me on Twitter, you'll have noticed that I've been tweeting and retweeting quite a bit to help disseminate information for the benefit of local followers. Nick has been working on QLD Floods, a resource for Queenslanders to use to find or offer shelter and other information about the flooding. We are going to join the Lord Mayor's flood clean up gang and help clear local areas and homes of water that could quickly turn stagnant and attract mozzies and yucky diseases.
I've seen some horrifying stuff happening over the last few weeks but I've also seen an outpouring of compassion and sacrifice too. And when I make that pun I really want you to understand that the kindness I've seen is really, really huge and widespread – like a good sort of flood to pushback against the widespread inundation of brown, mucky water. Twitter has been a magnificent way for us to keep in touch and up to date on things that are going on, but it's also been a platform for organising help too. One of the most awesome things I've seen over the last few days has been Baked Relief created by Digella as a way of getting food and water to volunteers in affected areas as well as to the Volunteering Queensland headquarters. When the call went out to get water to 250 thirsty vollies at Yeronga I sent Nick out to deliver the 20L we had on hand. Why? Because working hard and having nothing to drink isn't very pleasant and dehydration can be quite dangerous. Also because we were well over-prepared and had far too much water!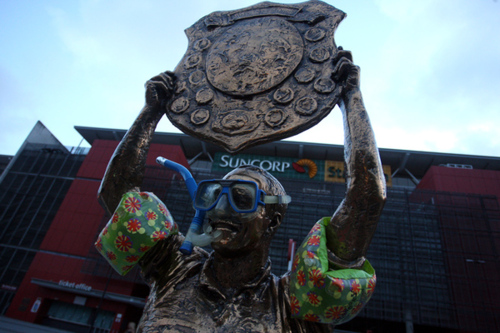 Say what you want about Queenslanders, but we have an awesome sense of humour. For those who don't know this is a statue of Wally Lewis, one of the heroes of rugby league in Australia. The stadium this statue stands in front of was totally flooded with water. Source: mackiemarsellos' twitpic.
If you're reading and have been affected by the flood, I hope you can get the help you need to get back in your home as soon as possible. It's very realistic that there are people out there who are stranded without electricity or internet, without a way to ask for help. If you're in an affected area please check up on your neighbours when you can.
In the coming days I'll be finishing off an original drawing so I can auction it off for the benefit of the Premier's Flood Relief Appeal. Stay high and dry people.
xoxo