Apropos of having absolutely nothing relatively important to blog about while living in a state where much of it is a disaster recovery scene, here is a post about shoes. I feel guilt that I'm safe, Nick's safe, our families and friends are safe and our belongings are safe while thousands of people are mourning loved ones, livelihoods, homes and treasured possessions; however most of my readership is overseas and might be wondering why my blog silence stretches on and on. It's just simply because everything I start to write about seems far too trivial. On the other hand, as people sometimes cruelly put it, life goes on. And it does go on for me even though I feel useless guilt that manifests itself in buying shoes. But yes, most of my readers are not victims of a natural disaster right now and they want content. So please enjoy this post wherein I juggle my guilt and my responsibility to blog about stuff, in this instance shoes.
I have big, wide feet that are attached to sturdy calves. It's always been this way, even when I wasn't particularly fat. When Mum took me to buy school shoes I'd dutifully slot my feet into the cold metal foot measuring contraption and the assistant would sigh and mumble something about going into the back of the shop to find the EEEEEEEEE fitting shoes. Upon finding out about my big, wide feet people would usually say something about me probably being a strong swimmer, and it's true I am a pretty strong swimmer, but it's really frigging hard to find fancy shoes for these flipper feet!
So when I started seeing '90s style fashion trends all over the internet, with the lovely mid-calf lace-up boots, I started salivating. But I knew that it'd be a trend I probably couldn't participate in. There was a time when I could say, "bugger the consequences!" and buy regular shoes but in the last few years I've realised how useful my feet are for carrying me around and I've only ever bought shoes that are wide enough for me. Finding shoes wide enough across the foot is one thing, but finding boots big enough to fit around my burly calves is another.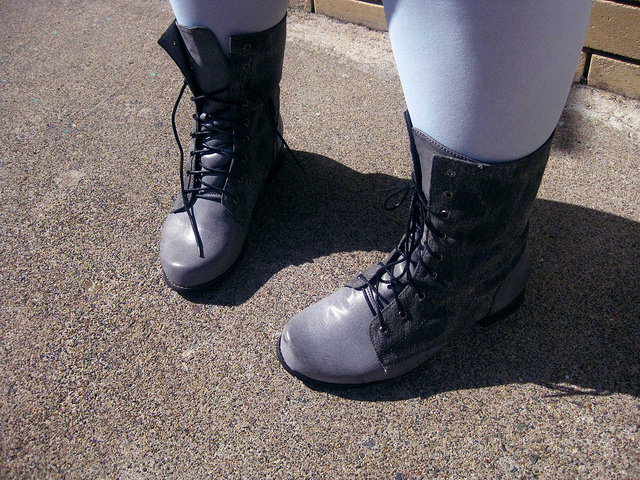 First I found a pair of stompy boots at Evans that fit me, and even though I made a concession on the colour (I would have preferred black) these grey and purple coloured boots have been serviceable and comfortable. They don't have arch support unfortunately and the shaft is almost too big and boxy, like they weren't cut to the shape of a human leg, but I wear them frequently with dresses. They provide the perfect hard edge to a femme outfit.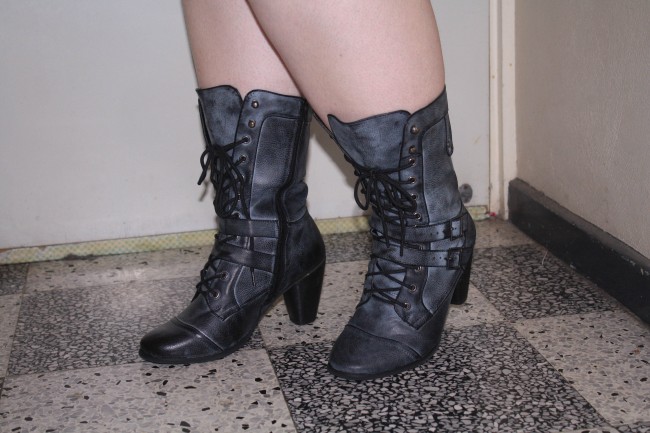 I bought these boots last week after searching for affordable, wide fitting witchy style boots for a few months. They're from New Look's wide fitting range so I assumed they'd fit much like Evan's shoes. (I really have relied on Evans in the last few years for affordable shoes that actually fit!) They were delivered today and half asleep I ripped open the parcel and tried to put them on my legs… it was a hugely arduous task. These are not for wide calves and while my foot fits in the shoe it feels quite tight. To get these on my foot I had to undo all the lacing and the buckles, yes even though there is a huge zip up the side, and Nick got on the floor and helped me shove my feet in! I have been wearing them for a few hours today to break them in, and I'm going to persevere but they sit rather precariously on the verge of breaking my "no uncomfortable shoes" rule.
This all emphasises a point I keep making: people with bodies that fall outside the regular sized range that fashion retailers stock are not catered for and have limited choice, and this can lead to compromise and not maintaining that well-kept appearance that our culture rewards. It's why fat people are characterised as slobby and unfashionable. When it comes to shoes one really shouldn't take too many chances with fit as it can lead to injury, and being diabetic I must be careful with my feet at all times. It's just hard to do when you have big, wide feet with wide calves and a limited budget.