I have been sick in the last few months and it's been very difficult to manage all the different parts of my life while also taking care of me. A few months ago my anxiety got to a point where it was making me withdraw from the world and it probably would have been a lot worse had Nick not stepped in and gently nudged me in the direction of the local GP. I decided to stop everything and focus on my health, my mental health, for the first time in a long time and I'm still working on it. I think I'll have to work on it for the rest of my life now that I know that it's not like a cold and it won't be something I can get through by grinning and pretending I am normal.
I don't like doctors because even though they're supposed to care for us, I've never really felt like they care much about me. One of the reasons why my anxiety and sleep problems weren't addressed sooner was because doctors didn't pick it up. They wouldn't let me testify for my body and would assume that I was lying or hysterical or non-compliant. Instead of treating me as an individual human being with a unique body, they would look at my body and refer back to the caricature of the fat body. I don't need to go into details – you and I, we know all about it. I also have Type 1 diabetes and that adds a layer of complication and frustration around looking after yourself, being sick and going to the doctor to seek help. Many GPs and specialists have treated me like I am a criminal against my body, just for having T1D and being fat. They failed to listen to me or have empathy, and thus they failed me.
So when Nick told me that he thought I needed to get help, I protested. I put it off. I knew I'd be ignored again and again, and that it wasn't worth the hassle. Yet one day I had a bad anxiety attack and Nick had no choice but to take me to a doctor. One I had never seen before. It doubled my anxiety, made me twitch and sob involuntarily, so by the time I was in the chair in the doctor's office there was nothing for him to see except my anxiety. I'd been able to hide it for a long time because it was more important to keep up appearances for fear of people thinking I was crazy and treating me poorly because of it. This time I couldn't. I had internalised our culture's horrible attitude towards mental illness, kept quiet and tucked my crazy back inside; yet in that chair I felt the full injustice of my years of pretending.
This holiday season hasn't been much different from any other, yet when people have asked me what I'm up to I haven't had much to say, not because I haven't been up to much but because I have been struggling with things that aren't very difficult for people who don't have mental illness. It's dangerous when I tell people I have social anxiety disorder because most of them think that it can be cured by smiling, by lifting your chin up or by quitting your "fucking around" and just getting "back into the swing of things". Just a PSA: these responses are distressing, offensive and even if well-intentioned, do sweet F.A to help the person you're talking to. So anyway, I did a lot of creative story telling. Sorry family and friends, if you're reading, but I just didn't have the energy to walk people through a day in the life of. I want to help people understand, and that's why I'm writing this, but I don't have the spoons to educate you!
I've been on a few different meds over the past two months and I haven't yet found the ones that are right for me. It's difficult when health conditions intersect; at the moment I'm figuring out which tablets can help me sleep and reduce my anxiety while still giving me the energy to go about my daily life (let alone working life!) without mucking around with my diabetes. It's hard. Luckily I am now seeing a fantastic doctor, the doctor of my dreams even! (Hi Dr C, if you're reading this!) I started seeing her based on Nick's recommendation and instead of rehearsing my concerns and fearing what the doctor is going to say, I'm able to feel like my doctor respects me AND I can have a laugh. Oh my god is it incredible to have a doctor with a similar sense of humour!
So there it is. All laid out and kind of ugly, but that's what I've been up to. I've been looking after me. It has meant that I've let things go and I'm trying really hard to get things in order – like some necklaces that haven't been posted, I am so so sorry and they are coming to you soon! I haven't been answering emails, they have scared me for the last six months and I feel really really horrible about it. There's this perfect version of me in my head: I'm super organised and on top of everything, super nice and gregarious while standing up for myself too… but I fall short a lot and then I feel wracked with guilt and shame. I want to stop this because I'm sure it's not nice to have a friend who is more concerned with being perfect and ok than having fun; more importantly I want to feel better in myself.
Giving yourself a treat is often seen as naughty and indulgent but it's actually very important I've found out. For a long time I have worked so hard for other people, oftentimes until I cry, thinking that it'll get me places. We're taught that success is about denying yourself in favour of maintaining a killer work ethic – but it really is a killer. I have suffered several lapses in mental health over the past 10 years and each time I blamed myself for not being good enough or hard arsed enough. I never really considered that I might need to treat myself better. In fact, it wasn't until I read about self care within the fat activism and social justice realm that I realised our cultural narrative around success has been built on a foundation of complete bollocks. Burn out isn't just a thing for corporate folks, it happens in every sphere of life where you find people working passionately.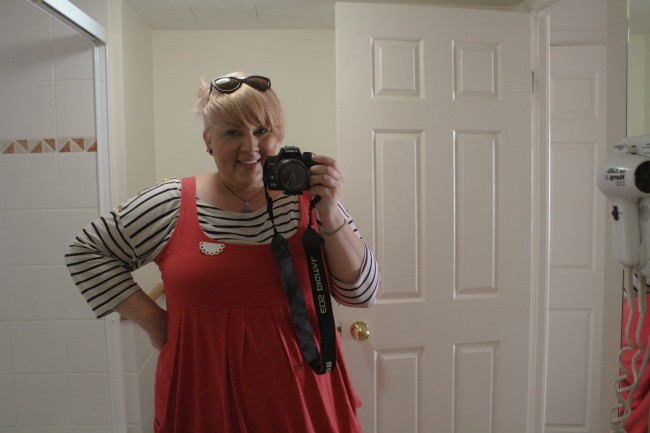 So in the last week I was able to do a few things for myself: I cut my hair (with Nick's help) and I booked a couple of nights away down the coast. And damn the world if the world doesn't like it, because I loved it.