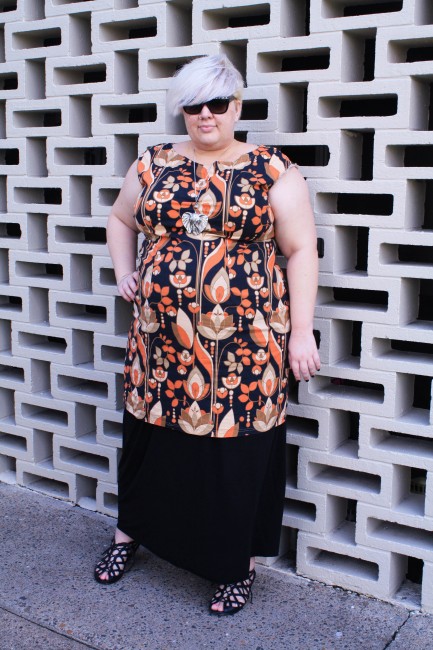 We are moving in the next few months and every time I think about culling items in preparation I start to freak out. Today I was going through my wardrobe, pulling out things I don't wear and I found this dress that I made three years ago. I don't know why I haven't worn it in so long, because once I put it on I remembered how awesome it was!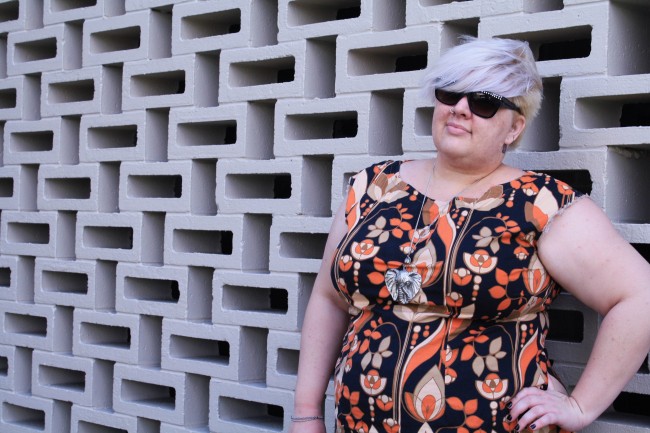 I used a New Look pdf pattern but had to grade it up a few sizes and reposition darts. I wish I'd kept my altered pattern pieces because I want to make a few more of this dress (so much for culling my wardrobe!) The fabric is a stretch poplin in a fantastic 70s style print. I should have bought a few more metres because it's lovely to wear.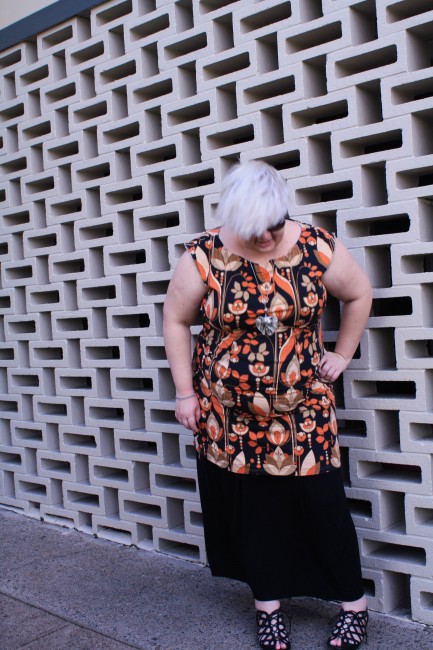 I didn't wear make up today. It was just too much effort, like a lot of things are at the moment. I need to save my precious energy for putting clothes on, breathing and running errands. Even that exhausted me!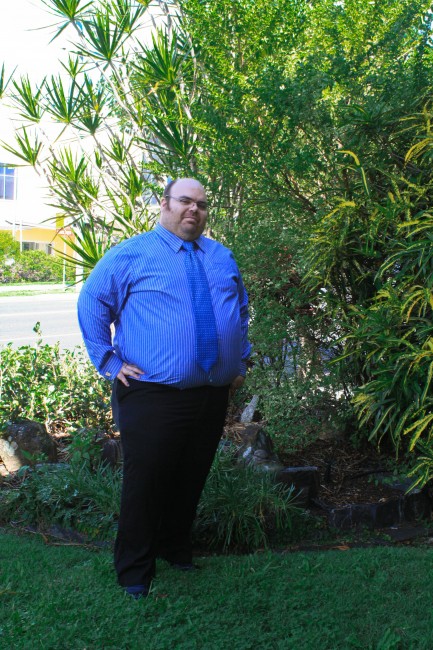 Nick also got dressed today, keeping with the custom of people who live in inner-city Brisbane. He had to go visit a client and put on one of his new tailor made shirts. Do you know how hard it is for a short fat man to find nice shirts? I never knew before meeting Nick, but it is a ridiculous challenge. He needs longer shirts, shorter sleeves and wider necks and shops just don't stock anything to fit him. I'm fortunate in that my proportions are in line with the scant variety available in plus size clothing, so what little there is will probably be ok for me. Nick doesn't even have a scant variety; he has too big, too small or nothing. When you see a fat person who is, in your lofty opinion, dressed "sloppily" think about how all bodies are different. Any body that doesn't fit into a narrow range of what is constituted "average" (in height, proportion, weight, etc) will have to simply make do and that's how one ends up with poorly fitted clothes.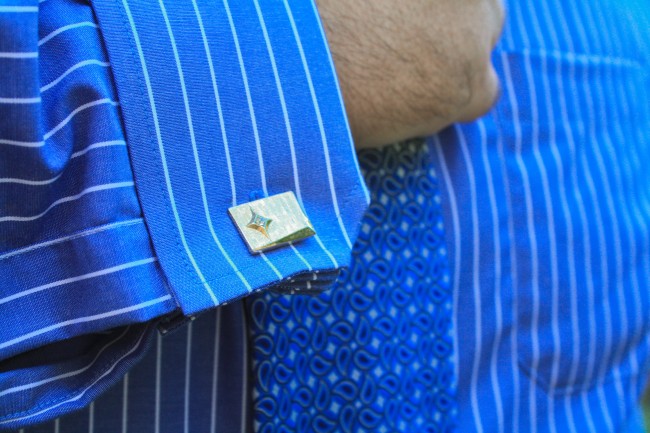 Many people have responded to my own complaints about the fit and availability of off the rack clothing with a dismissive, "make your own." Yeah, ok, so I do as much sewing as I can but not every person knows how to sew. Men's clothing is pretty much beyond my skills, so the next option is bespoke clothing and that is very expensive. In the last few months Nick has researched tailors, come up with fanciful ideas of holidaying in Vietnam and coming home with a new wardrobe and stumbled upon websites that offer fairly cheap bespoke shirt making.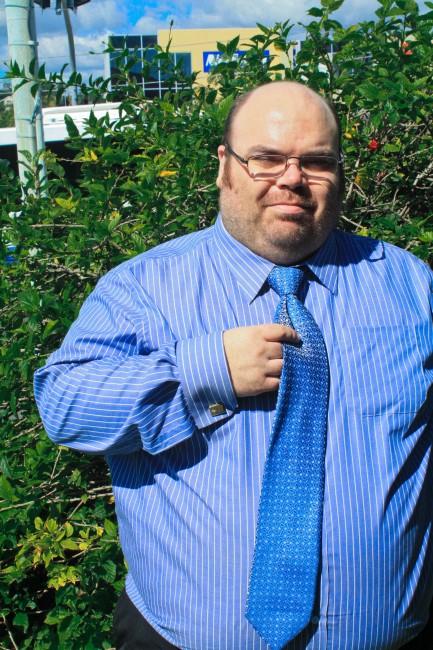 Nick was contacted by one of these sites and invited to get a shirt made up to his specific measurements. I don't know much about the process, and will prod him to blog about it, but at the end of it he received this very smart shirt. It's not an ideal process, because it'd be much more convenient to run down to the local shop and pull 4 things off the racks and walk out with them all knowing that they fit nicely and make you feel good. However in the interim it's an option where there seemed to be no options or only very inaccessible options. Now Nick can get fanced up for clients or fun and feel good in clothes that actually fit him!
My outfit:
Dress: Made by me
Skirt: Made by me
Sandals: Spendless Shoes
Mega awesome elephant head necklace: Valley markets
Sunglasses: Giant Vintage
Nick's outfit:
Shirt: Cao Vinh through Bespokeable.com
Pants: Lowes
Tie: Kingsize Big & Tall
Shoes: Williams
Cufflinks: Gift
Allow me to show you these other things to click on: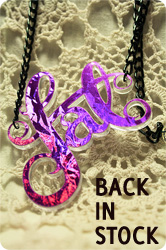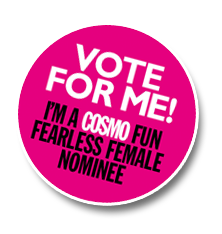 Fat necklaces are back in stock!
Vote for me in the Cosmopolitan Fun Fearless Female Awards – first round closes May 9.
Vote for me in the Best Australian Blogs Competition.