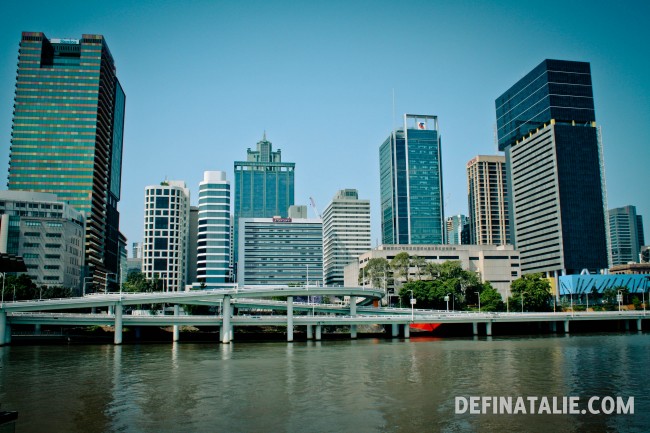 Nick and I headed up to attend TEDx Brisbane yesterday, and as we drove into the city we both felt a bit sad that we aren't still living there. The whole day was a little weird and overwhelming for me, feeling like a bit of an odd bod amongst a crowd of people I thought were there to listen to new ideas… but for some reason the vibe was off at TEDx this year. Maybe it was me, maybe I've romanticised last year's inaugural event, but I just didn't get a lot of what people were putting down.
[Warning: there's an animated gif at the end of this post]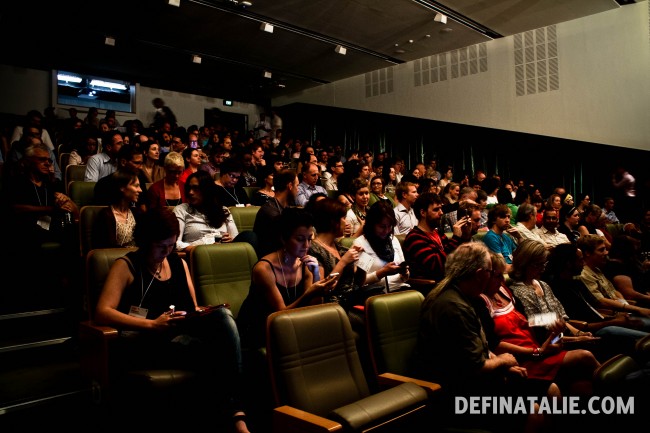 Despite having lots of feelings and not knowing what to do with them, there were standouts for me. The unrestrained enthusiasm of Edward Harran as he spoke about being feeling at home on the internet as well as his own inner internet, having access to such a stimulating and exciting amount of information and its potential for unlocking creativity in people. I started using the internet in 1995 and immediately recognised it as an exciting tool for learning, but at the same time realised that the learning I would undertake would rarely be formally recognised. The separation of IRL and URL still exists 16 years later, and Harran noted this frustration too. His talk made me feel like I wasn't alone in being excited and awed by being able to access, learn, share and collaborate however I felt like the point sailed clear over many heads in the audience.
My favourite talk was by Hazel Dooney, the only female speaker I saw (granted I left at lunch, with two more women speakers to go… good work organisers…) and an Australian artist I've followed online over the past few years. Her writing is blunt, brutally honest, confessional and sometimes cutting but as Dooney's soft voice introduced itself I was pretty surprised. I thought she'd sound harder. Many tweeters using the #tedxbrisbane hashtag roundly condemned Dooney reading from a clipboard, emphatically tearing off pages and dropping them on the stage as she was finished with them. What they utterly failed to comprehend was her ability to make you remember her, she may as well have ripped off post-it notes and stuck one with her name on every head in the crowd. Hazel Dooney has been representing herself as an artist, sticking it to the traditional gallery system, over the last few years AND she's been doing an exceptional job of it by marketing herself online, communicating with her collectors directly. It was inspiring to see her speak in the flesh, and has firmed my resolve to run my own art practice by my rules.
Like I said, I left after lunch because I was quite overwhelmed by everything. We sat for too long, there were too many people, the walls were closing in, and I just wasn't into most of the talks. I'd been looking forward to hearing from Eva Cox, but since she was the very last speaker I figured I'd be well over it by then. Nick and I went away from the crowd of suits and jerks (yeah, sorry attendees) to have a quiet moment and ended up taking some silly photos. It was just what we needed, some time alone to laugh and muck up.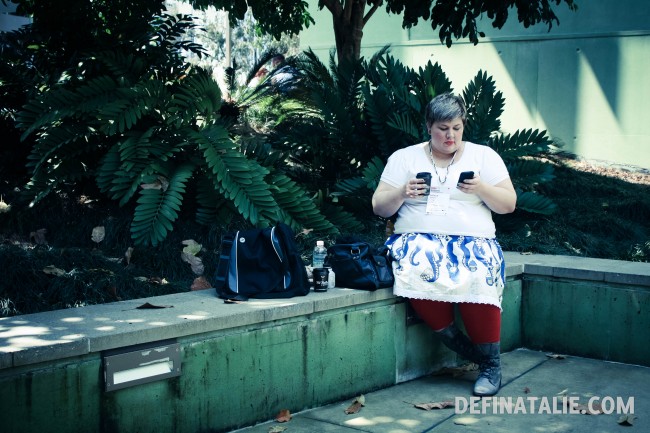 On Friday night I made this skirt from the Octopus Sweets fabric I've been hoarding for months, and trimmed it with some lace I bought at the Carrara Markets another sum of months ago. It's super fun to wear! I put on some red teggings that Re/Dress sent me in the morning because it looked like it was going to be cold and stormy, but as you can see… the day turned out to be gloriously sunny and sweaty.
Top: City Chic
Skirt: Made by me
Teggings: Re/Dress
Boots: Evans
Necklace: Re/Dress
Sunnies: Giant Vintage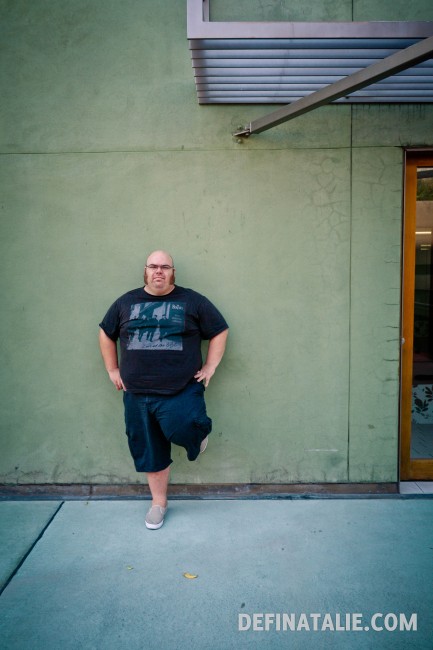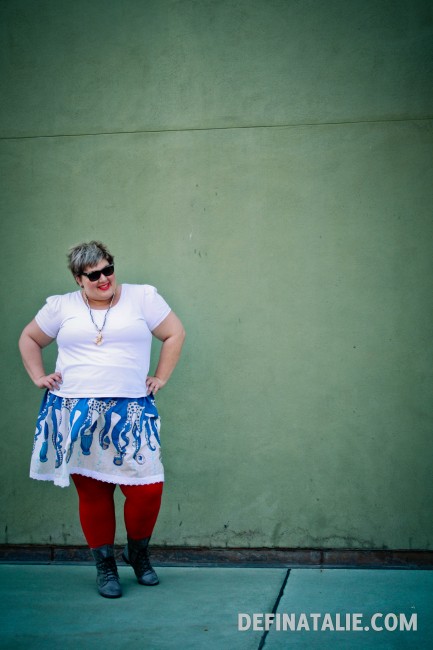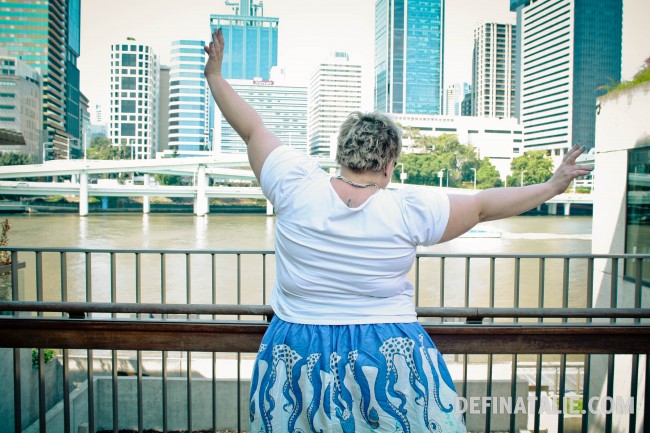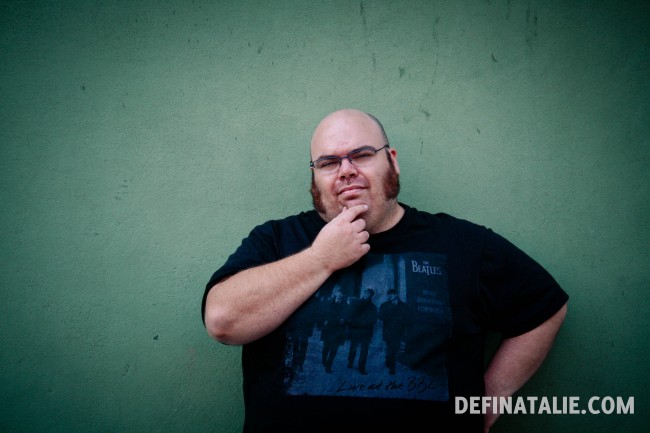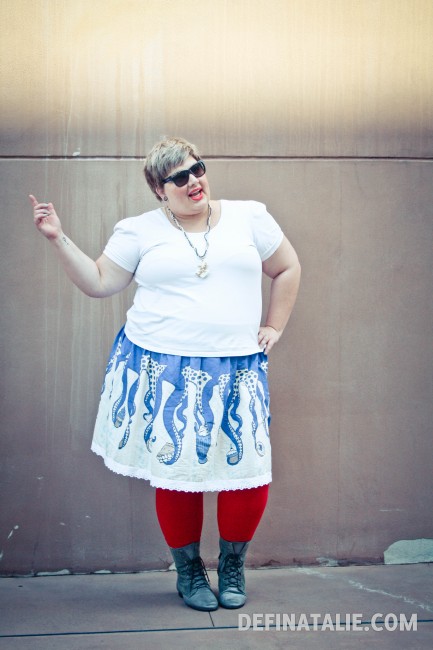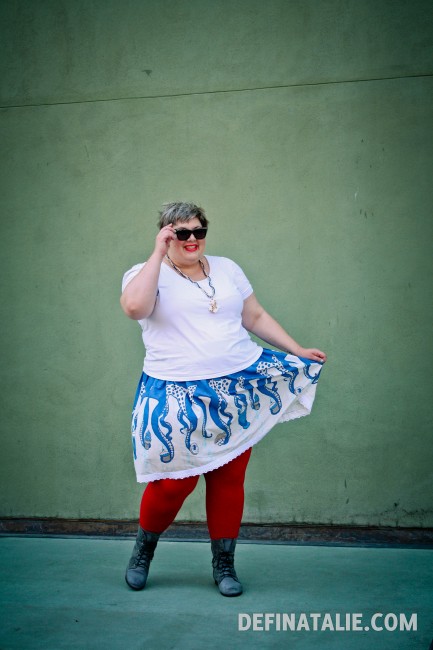 So, in conclusion, if the organisers of TEDx Brisbane (or any other TEDx) want to contact me to talk about fat embodiment and activism, blogging and finding community online… I'm available. I'm pretty sure my ideas are worth sharing and they'll be more exciting/ stimulating/ controversial than another white dude talking about urban planning. YAWN.