I bought this dress on sale about a year ago from Myer, it was reasonably priced and comfortable and at that stage I was desperate to get some casual dresses into my wardrobe. The problem with this dress is that while it's comfortable, it's also incredibly hard to wear without making me feel really frumpy. It has a lot of gathered stitching in odd places, from the front shoulder to the bust line and across the back, and below the bust line it just falls away. Not under the bust, the bust line, and while I try VERY HARD to practice anti-flattering dressing, it's just not as easy to carry it out when your body is not a conventional hour glass shape.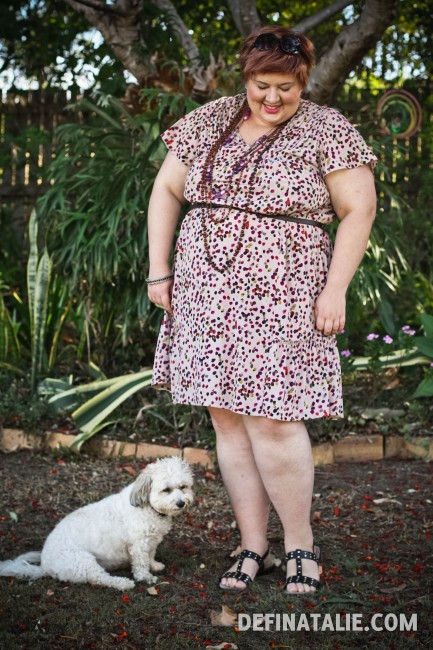 This morning we decided to go out for lunch and I had a dressing dilemma. Summer is a terrible sartorial period in my life because it's so damn hot and for some reason I don't have a very cohesive summer wardrobe. I have made a few patterned skirts but none of them go with the tops that I have! I pulled out the dreaded dress and decided to give it another go. Without anything to around my waist/ under boob area (the two are basically the same place when you have a short waist) it just made me feel very frumpy and un-finished. I pulled a studded belt out of the top of the wardrobe and put on as many beaded necklaces as I could find, and found it infinitely more wearable and less frumpy in my head. I hate wearing belts that just float around, and I really resent the designer for making this dress loose fitting from the bust line, but this is basically the best way I feel I can wear this dress.
My dress struggles reminded me that even though I (or you or anyone) can fully reject something (like the principle of flattering clothes) in theory, in practice it's a far harder thing to carry out especially when we've had acceptable body shapes and sizes drilled into our heads. In some ways I feel like a hypocrite, but being gentler and more tender with myself is probably a more productive and workable approach. No fat or body acceptance activist is perfect, we all make mistakes, and sometimes we practice things that fall outside what we preach. How can I expect myself to be a perfectly radical activist in every way when I've grown up in the very culture I am questioning? I am not objective, I am subjective; we shouldn't give the objective viewpoints more weight in most circumstances, we should be giving voice to the lived experience of hardship, struggle and oppression. I am feeling these shitty feelings we've been taught to feel. The most powerful thing is stopping for a second to listen to my self talk, then questioning why I feel the need to comply. Talking about it with other people helps a great deal, and it's one of the reasons why I write about being fat and wearing clothes on this blog.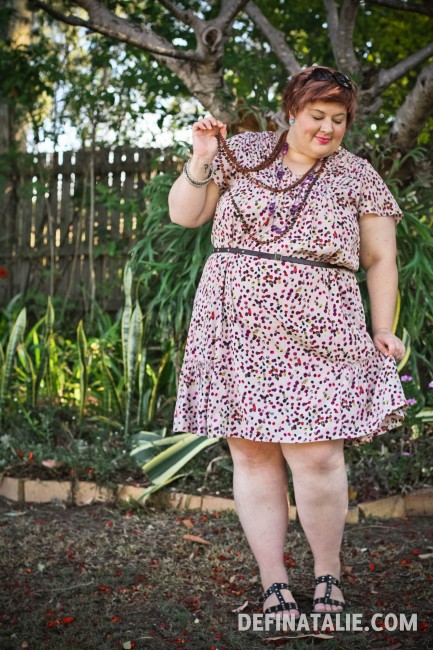 So I chose the option that made me feel less shit about myself in this case. It's not perfect, but it's one of the things I have to do in order to wear clothes as per my societal contract as a human being living in a city in Australia. I chose the option that made me feel like I'd be less of a target. As a fat person who is deathfat and can not hide it, my body is hyper-visible; I felt like I'd be less of a target for people to stare at and yell things at. I also chose the option that made me feel much better about a purchase I made, because I don't have access to a diverse range of options in a size 24-26.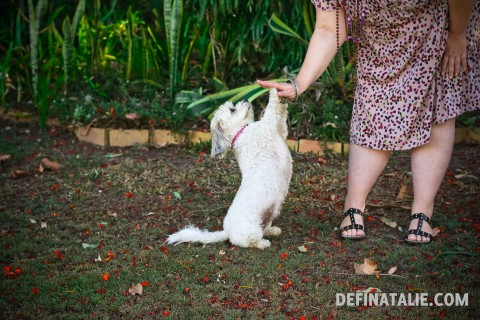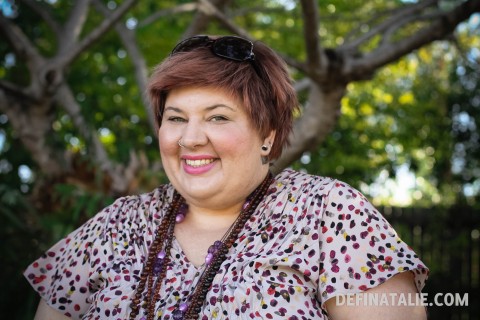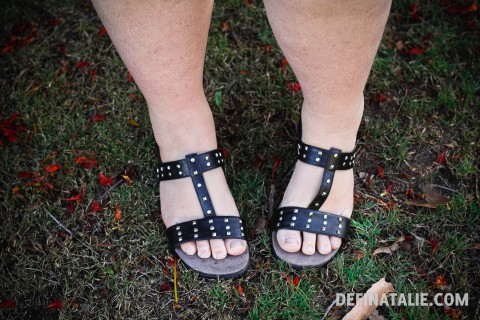 I get lots of feedback and questions about being fat and trying to be a "good activist" all the time, and honestly, I have no idea what a "good activist" is. The best human being I can be is a transparent, tender, forgiving, accountable being; and when it comes to an area of activism like body image that is so personal and emotional, the best activist thing is kind of a false aspiration. Seek to question, critique and be accountable but also be super loving and forgiving and remember that nuance is incredibly important. If you struggle with hating your body or participating in hurtful practices but love the idea of fat and body acceptance, you are not alone. There's lots of us standing in front of mirrors every day battling this stuff, wondering if a belt will compromise everything. But it doesn't.
Dress: Piper Woman
Shoes: Annie (via Shoebuy.com)
Belt: From a Yours Clothing dress
Necklaces: from a variety of forgotten places
Bangles: City Chic