Heyyy, wanna make a fun fringy skirt that flicks when you move your hips? I have been a bit sad recently because I don't have money for things like new clothes, even if they are awesome clothes like City Chic's fringed skirt (which has now sold out on the website!)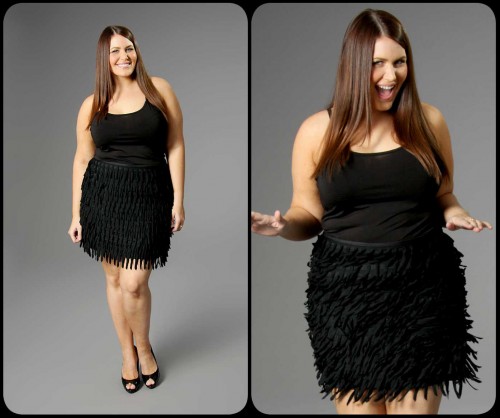 See how rad this skirt is? When I saw it on Hayley I knew I HAD to have it or something like it in my wardrobe. Unfortunately I couldn't buy the City Chic skirt, but fortunately I did have some scrap fabric and a t-shirt sitting around going to waste. I figured I'd quit whinging and DIY myself a fringe skirt! If you want to make one too I've written out instructions under the cut.

Required:
Sharp scissors
Jersey fabric (I used five scraps of jersey from Reverse Garbage that were around 50x50cm each)
T-shirt that fits comfortably over your hips and thighs
Elastic – enough to fit around your waist/hips comfortably (I used some about 2cm wide)
Safety pin
Pins
Sewing machine
Jersey needle
Basic sewing skills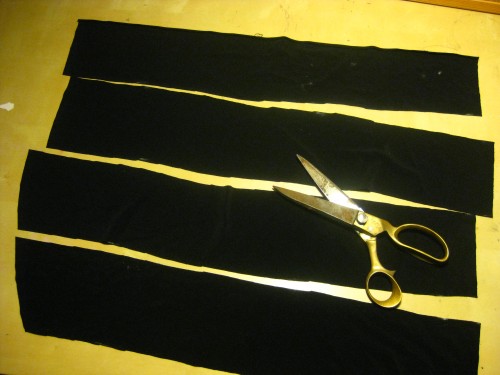 Cut your fabric into strips that are 10cm wide or thereabouts. If you want longer fringe, cut your strips wider! Mark your fabric with chalk or a water soluble pen to make sure all your fringing is relatively even.
Don't worry if you are using scraps of fabric that aren't long enough to wrap around your thighs. You can sew each bit of fringe together.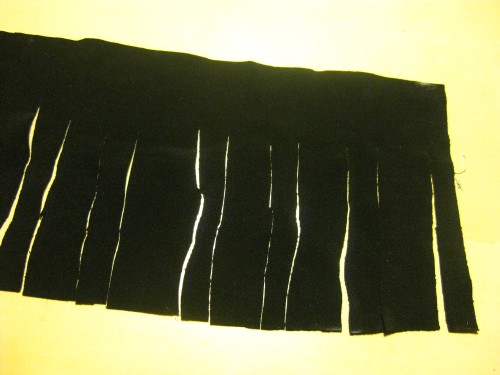 Cut slits into your fabric to create a fringe. Don't worry too much about cutting straight, you won't notice it from far away. My scissors need oiling and my hand is pretty weak, so my cuts look quite jagged but it all works out int the end!
You can see I've alternated skinny and wide chunks, and there's a reason for that!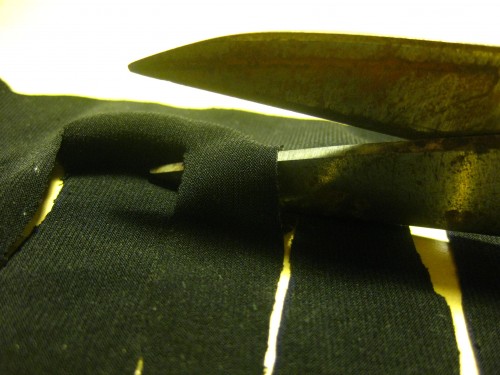 I chopped out all the skinny chunks!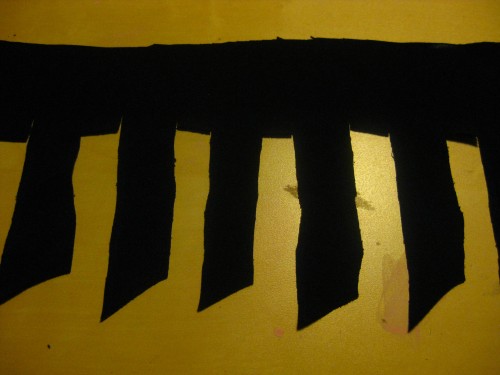 Leaving me with a gappy fringe. I also chopped the corner off each bit.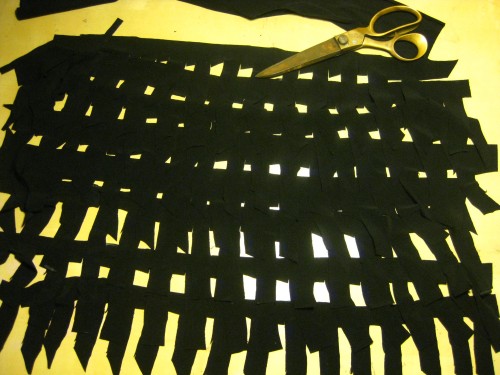 Pretty soon you end up with a pile of fringey bits! You can start to see how they look all layered on top of each other.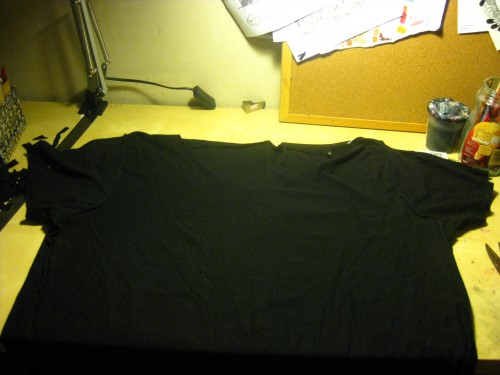 This is a shirt I have previously ruined by cutting the neck out of. It gets to live on as a skirt! It fits snugly around my hips and thighs, and hits mid thigh. If you want your skirt to be longer, you need to find a bigger shirt!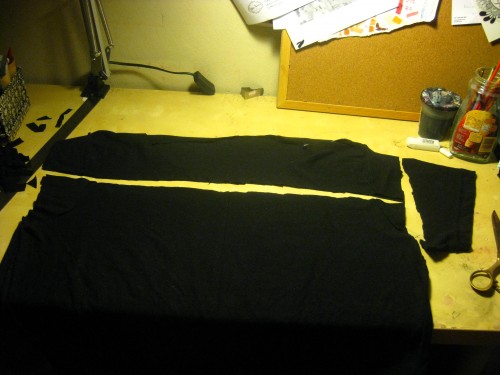 Chop off the arms and the shoulders. You should be left with a tube of fabric – INSTASKIRT. Because I wanted to get a little more length out of this shirt I chopped over the sleeves, and ran a seam up the side to close it up. It doesn't matter if you can see the former armhole seam, it's going to be covered by fringing.
If you are using a bigger shirt and it's too loose on your hips, run it in up the side seams. Put it on inside out and do the old "pinch measurement" test. It's totally unscientific. You can use a tape measure if you feel more comfortable :P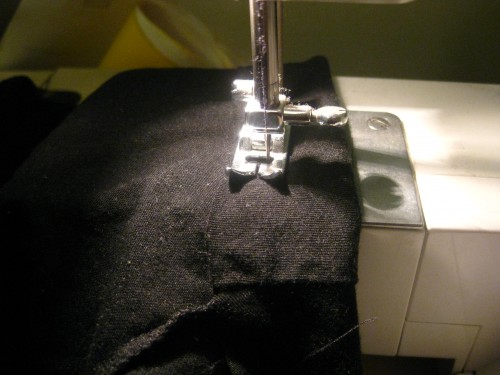 We need to sew a casing along that cut edge in order to put elastic in it when we're finished. I folded the top edge along and sewed a seam with a knit (or zig zag stitch) leaving just enough space for my elastic to sit inside snugly.
Don't put the elastic in yet! It'll make everything more fiddly when you're sewing on the fringe.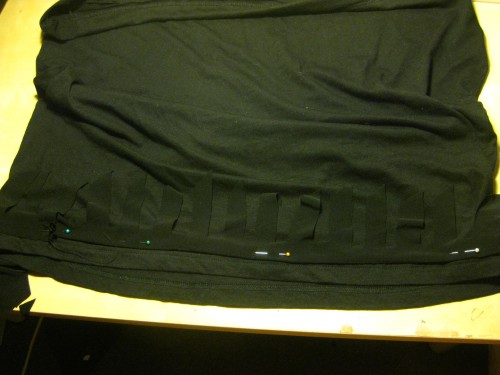 It's time to sew the fringe on the skirt! First you've got to check you've got a width of fringing that will wrap around the skirt, front and back. Is yours not wide enough?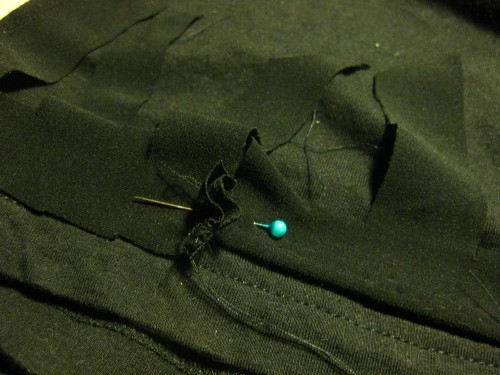 Then slap a couple of pieces end to end and sew them! This photo shows the pieces sewn together and then pinned to the skirt. I hope it makes sense ;)
Pin the fringe all around the skirt upside down with all the seams facing up. You can arrange it to drop below the hem, or flush with the hem, or above the hem… it's up to you.
Using a knit (or zig zag) stitch sew the fringe around. When you get to the end and start to overlap the beginning of the fringe, cut the excess off and save it to connect to another bit of too-short fringing.
Rinse and repeat, taking care not to catch any of the lower layers of fringing as you add more layers of fringe! You don't have to worry too much about spacing each layer evenly, it's a pretty forgiving effect. If you prefer for all the angled ends to be facing in one direction, pay close attention when you sew each layer of fringing. I wasn't paying attention so my fringe is all over the place. It's ok! It still looks rad.
When you've finished attaching all your layers of fringe, go get a safety pin. Attach it to your elastic and thread it through the waist band casing. I'm sorry I didn't photograph this but I hope it's clear! Adjust the elastic so that the skirt sits comfortably, and then secure the elastic ends by sewing over them a few times. Close up the waist band casing.
PUT YOUR SKIRT ON!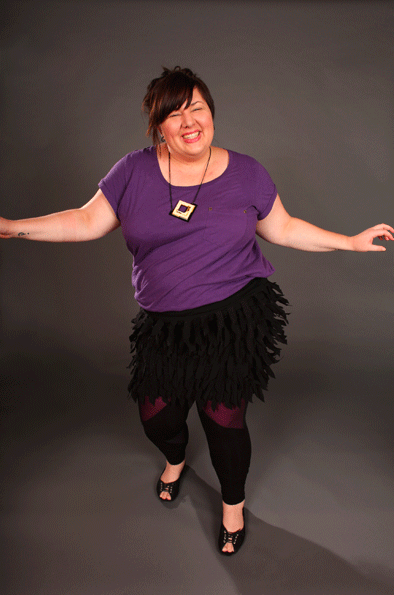 MOVE YOUR HIPS!
(This gif is cracking me up at the moment because it looks like I'm dancing to Röyksopp!)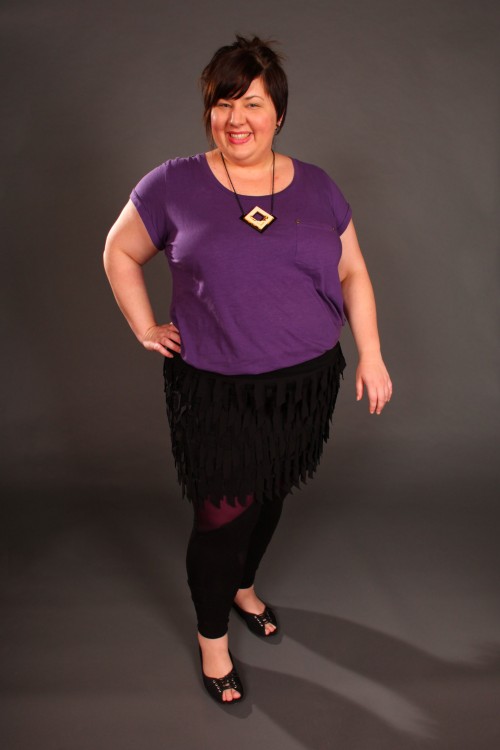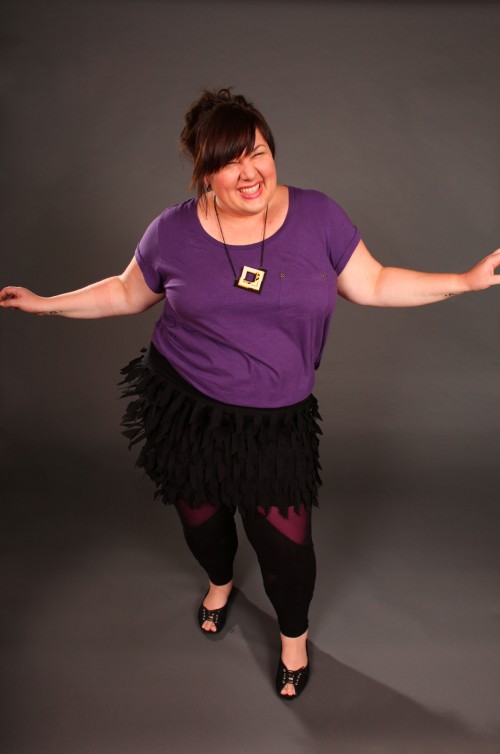 Thanks Kate for letting me use your sewing machine, and for taking silly photos of me.
I hope you make a flippy fringe skirt and show me photos! It's such a fun skirt, and I'm really chuffed with how it turned out :D